明因果無煩惱

Understand Karma for a Worry-free Life

吾站在魚缸前唸往生短咒的習慣,已經很多很多年了。 (至少十二年以上。)


吾唸的往生短咒,無數無數遍。

受益的畜類,算也算不清了。

吾在餐館裏唸,在有飼養魚的客人家裏唸,在池塘旁唸,在超市的肉類區唸,路過"橫死街頭"的蝸牛昆蟲時唸,坐車經過墳墓區(臺灣和馬來西亞較多)唸,讀到報紙的死亡事件也為亡者唸。

每一次唸,至少七遍。

每一次唸,都很用心。

每一次唸,也提醒它們不要埋怨自己的遭遇,因爲前世的錯,今世還。要趕緊懺悔,才能離苦得樂。

但,終究只是吾一個人的力量。

所以,這往生短咒,吾教了很多弟子、學生和客人。至今,不知有多少人還能保持這發心。

吾看魚缸裏的水族,不但越來越多,連一些稀有的品種也有。感慨人類的貪念越來越重。

吾看到水族們的恐懼、絕望、無助、嘴巴的傷痕,還有眼裏的恨和無明。 吃下去,就是把它們的嗔和痴的能量轉移到我們的身上,我們的身心會好嗎?爲什麽人類患癌的病例越來越多?你妳以爲這些癌的腫瘤是從哪裏來?

真的有必要爲了貪「新鮮」而吃活海鮮嗎?

舉凡飲食業,都必定有殺生。而所謂殺生,不單是指拿刀殺生害命,凡一切惡毒詛咒他人、獻計害人等等,皆屬殺生。

今世你妳殺他、它,來世他、它殺你妳。這就是因果,分毫不欠你妳。一命還一命,謂之公平。未來家中也會出現病弱、難帶、忤逆、痼疾,等等,之不祥子女。慎之,慎之。

願大家明因果,無煩無惱過日子。

人生切莫把心欺,
神鬼昭彰放過誰,
善惡到頭終有報,
只爭來早與來遲。

(在外,少刷手機,多唸一遍往生短咒吧!)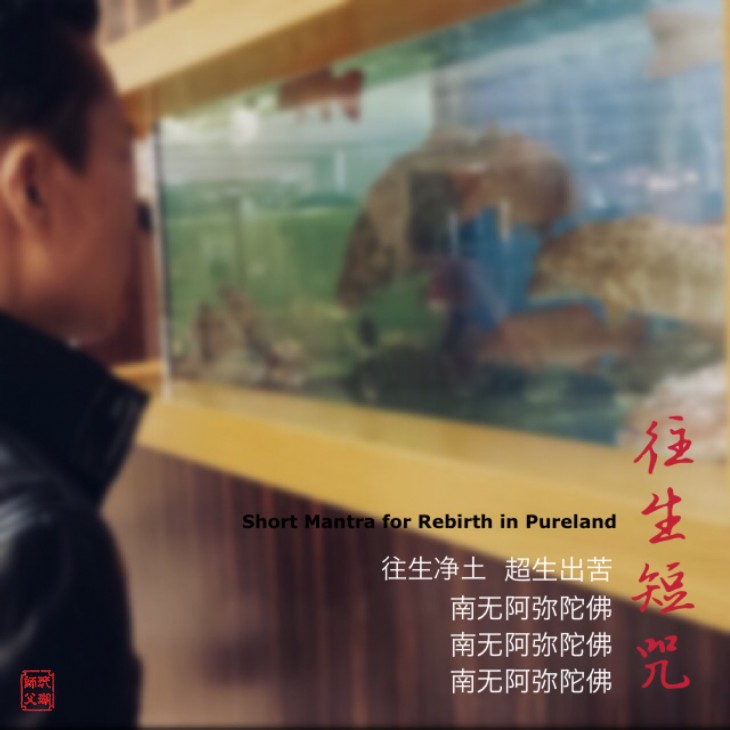 I have been habitually reciting the short Mantra for Rebirth in Pure Land in front of numerous fish tanks, for many many years. (At least 10 years.)
I have recited this mantra countless times.
And I have lost count of how many animals I have helped.
I recite the mantra in the restaurants, at clients' homes with aquariums, beside the ponds, at the meat section of supermarkets, when I spot the carcasses of insects and snails on the streets, when I pass by cemeteries (mostly in Taiwan and Malaysia) and when I read of death cases in the newspapers.
Every time I recite the mantra, it will be at least 7 times.
Every time I recite the mantra, I do so with my heart in it.
Every time after I do so, I will remind the animals not to bear grudges for their sad ending, for what we did wrong in our past lives, we pay it back this life. They must repent soon to get out of their sufferings and attain eternal bliss.
Alas, it is still my effort alone.
I have imparted this mantra to many disciples, students and clients. Till date, how many of them still bother to do so as I have taught?
The greed of mankind shows no sign of abating. Not only is the quantity of fishes in the aquariums increasing but there are more and more rare species among them. Beyond the wounds on their lips, I saw in them the fear, hopelessness, helplessness and most obviously, the hatred and ignorance in their eyes. If we consume them, we are taking in their energies of hatred and ignorance into our bodies. What will happen then to our physical and mental states? Why are cancer cases on the rise? Where did you think the cancer tumours come from?
Is it that necessary to consume live seafood for the sake of 'freshness'?
In the Food and Beverage industry, there is definitely the act of taking lives of sentient beings. However, it is not only with knives and choppers that we commit the act of killing. Cursing others, devising ways to harm others etc, is akin to killing.
In this life, you take the lives of other sentient beings. In the next lifetime, they will come after yours. This is the Law of Karma, which ensures real equality. An eye for an eye, in all fairness. One of the karmic consequences of taking lives will be sickness, disobedience and rebellion in your offspring. Please act carefully.
I wish for everyone to understand the truth of the Law of Karma in order to lead a life of no worry.
As we live, do not deceive your own heart,
For the Gods and Spirits are everywhere and no one will be spared,
The Good and the Bad will get what they deserve,
It is just but a matter of time.
(Spend less time on your mobile phone and instead, more time to recite the Short Mantra for Rebirth to Pureland!)

Leave a Comment