好風水的厲害

The Amazing Power of Good Feng Shui
玳瑚師父:
數年前,為林奕均先生勘察他舊家風水時,吾告訴他,搬吧!最好買全新的單位!
一個陽宅先天格局不好,吾能用風水佈局來補助幾年。林先生伉儷也因爲看到家運有改善,因此連續雇用吾好幾年了。
但,最好的風水莫過於先天的優勢,配上絕佳的風水佈局。
人要力求上進,要真的有愛,有能力為自己和家人爭取更好的福利時,不要猶豫不決,婆媽會誤了事。
養一頭家不容易,林先生抱握運用善知識的力量,來幫助自己和家人,是他的智慧和福份。讀到林先生在吾網站的留言,吾真的為她他們開心,也祝福她他們一家2016年裏能夠更著重在靈修,淨化自己,以達到真正的合家平安。
林奕均先生:
這篇文章所提到的是我的住家,而我想,跟大家分享我過去七個月居住在這裡的狀況,應該會很有趣。
玳瑚師父是在2015年三月為我堪察居家風水。我們依照他的建議,進行屋子的裝修,竟然在裝修費用上省了一萬多元。
我們一家在5月22日搬進新宅。搬家不到一個月,我就察覺孩子們的行為有了顯著的改善,變得更聽話了。三個月後,孩子們幾乎不再打架爭吵了。他們以前的爭鬥可是我和太太的大噩夢啊!
還有,我女兒參加小六會考,我們沒有給她安排補習,但女兒卻自動自發地努力讀書,終于考到優越成績,順利進入中正中學的快捷系。
就連我太太的脾氣也改善了。
總的來說,這一切都非常的棒。感謝玳瑚師父這些年來的協助!
林太太: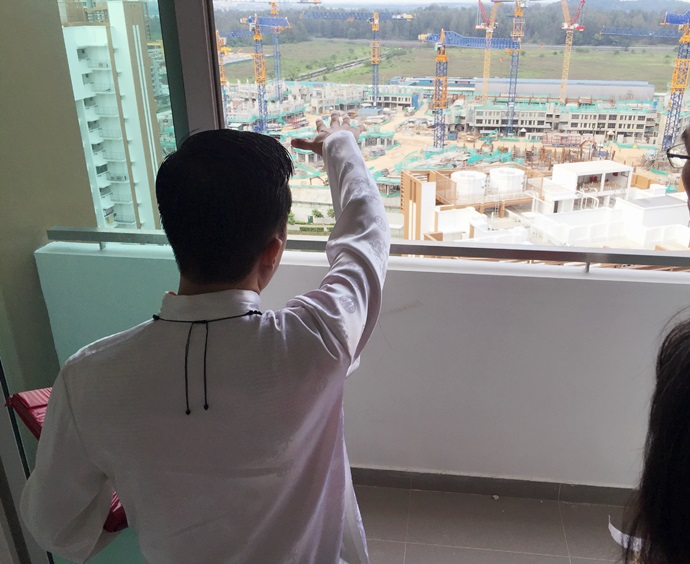 Master Dai Hu:
A few years back, when I was doing the Feng Shui audit for Mr Lim's previous residence, I told him to consider moving out and get a brand new place.
I can still use Feng Shui cures, to mitigate the problems of a Yang house with inferior form and layout, for a few years. Mr and Mrs Lim have engaged my services for a continuous few years, because they have seen an improvement in their family.
But, the best Feng Shui comes from a winning combination of a great layout and form, plus excellent Feng Shui placements.
A person must strive vigorously to advance in life and have

genuine love

for himself and his family. When you have the ability to seek better benefits for yourself and your family, act fast. Indecisiveness will only ruin things.
It is tough to raise a family. Mr Lim is smart and fortunate to seize the opportunity and leverage on a virtuous Master's abilities, to help himself and his family.
After reading his comment on my website, I am truly happy for them. I sincerely hope that this new year will see a more concerted effort from him and his family in their spiritual practice, thoroughly purifying their souls and achieving the true well-being and safety for his family.
Mr Charles Lim:
This article was speaking of my house. So I thought will be interesting if I provide some feedback on the situation after we have stayed in the house for about 7 months.
Dai Hu Shifu saw my house Feng Shui in Mar 15. We renovated according to his recommendation. In fact following his recommendation, we saved more than $10k for the renovation.
We moved in on 22 May. After moving in for less than 1 month, I already seen a marked difference in my children behaviour; the children started to listen more. 3 months later, the children almost stopped fighting, which previously was a major nightmare for us. On top of that, my daughter taking PSLE (who do not have any tuition) started taking initiative to study hard and finally scored well and gone in Chong Cheng High express.
Even my wife temper improved.
All in all, it was very good. Thank Dai Hu Shifu for your help all these years!
Mrs Lim:
The residence mentioned by Master Dai Hu in this article is my home. Many thanks to Master for making time to conduct the Feng Shui audit of my house. Not only did Master helped us to save a considerable amount of money on renovation, he also provided many valuable advice for our new home. We have lived here for 8 months, and witnessed a marked improvement in the relationships between the children, as well as their academic performance. My eldest daughter also got into a good secondary school. Indeed, it is just like what Master had foretold – staying in this new house will bring many positive changes like obedient children with academic progress. My relationship with my husband is more harmonious than before.
Thank you so much to Master Dai Hu for his help all these years.
Leave a Comment