避開霧害

Don't Be A Victim Of Haze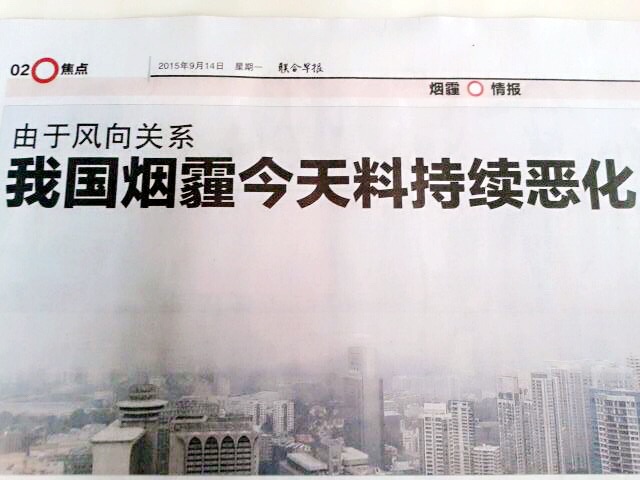 今天傍晚六點的空氣污染指數已是150點的不健康水平。凌晨一點時更曾一度高達222點。吾已在年頭預言今年仍然會「霧鎖南洋」,要過了農曆九月才會好轉。
別讓煙霧阻礙你的好運!
逆境來襲時,我們要竭盡所能,讓自己一直處在旺運中,要善待自己,別讓自己生病。容易生病、常生病、久病不癒或是「藥煲」的人不但是不走運,而且還一直破財。
各戶家庭可準備一瓶醋和空氣清濾器放在家中。在早上十一點至下午一點,和/或晚上七點至九點,可以吃一粒雪梨、一杯西瓜汁、一碗白果薏米粥、綠豆湯或杏仁糊。記得以上的甜品只能用冰糖煮。
請回顧吾的文章,了解你們應該吃些什麽食物,來洗滌煙霧所殘留下的一種物質在你們肺、喉腔和鼻腔。
取自文章 «霧鎖南洋» 2014年9月19日:
羅漢果、西瓜、杏仁及椰子,都能幫助抵抗「空氣不潔」時,所帶來的種種「傷害」。當然,放空氣過濾器在家,是有必要的。停筆前吾要提醒大家,用白色口罩,又或者,白色那一面向外。切記!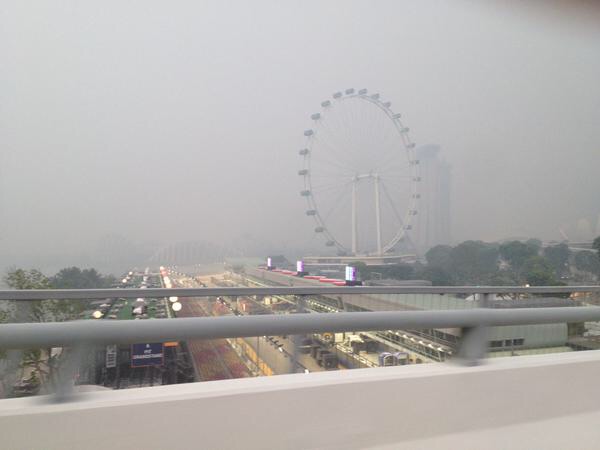 As of this evening 6pm, the PSI has hit the unhealthy level of 150. It scaled a peak of 222 at 1am this morning. I had predicted at the start of this year that the "Fog of Nanyang" a.k.a the haze will struck again, and the situation would only improve after the 9th Lunar Month.
Do not let the Haze spoils your good luck!
When adversity strikes, we must do our utmost best to stay in the peak of good luck and treat ourselves well so as to not fall sick. Those who are always ill, easily sick, unable to recover from an illness or on long-term medication suffer financial losses constantly and are deemed out of luck.
Each family should prepare a bottle of vinegar and an air purifier in the house. Every day, between 11am to 1pm and 7pm to 9pm, you can opt to eat the following foods: a golden pear, watermelon juice, barley porridge with beancurd skin and ginkgo nuts, green bean soup or almond paste. Please remember to use only rock sugar in the desserts.
Please look at my past article to remind yourselves on the kind of food to consume to cleanse the pollutants from your respiratory system (lungs, throat, nose).
Extracted from past article "A Foggy Singapore", published on 19 Sept 2014 :
Luo Han Guo (or the siraitia grosvenorii), watermelon, almond and coconut are the few foods we can consume to safeguard against the harm caused to our bodies by the polluted air. Of course, having an air purifier at home is definitely necessary. As I write my last sentence for this post, here's a reminder for everyone to wear a white-coloured face mask, or at least have the white-coloured part facing externally. Don't forget!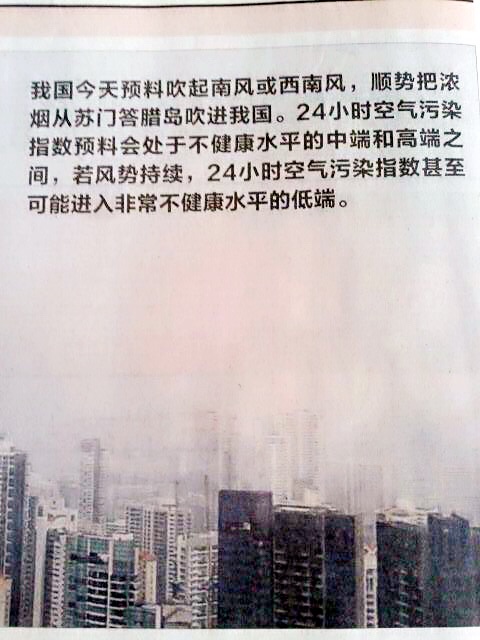 Headlines of Lianhe Zaobao 14/9/2015:
The haze condition is expected to worsen today, as the South or Southwestern winds send the haze from Sumatra into Singapore. The 24-hour Pollutant Standard Index is expected to reach the mid to higher range of the unhealthy level. If the wind direction persists, there is a possibility that the 24-hour PSI will climb into the extremely unhealthy levels.
Photo credit: John & Google

Leave a Comment