37th Learning Session Recap: The 8 Methodologies to Amass Wealth (1)

第37場回顧:聚財八法餐會

玳瑚師父在2017年8月25日,展開了為期八場的《聚財八方餐會》第一場。

在這系列的餐會中,師父教導大家如何將平日的發財夢,通過佛法和玄學的運用,變成現實的富裕。

師父提言:要幹大事的人,要大刀闊斧,不要拖拖拉拉。

有位出席者屢次,請師父爲她看八字。師父答:「妳始終不相信我,所以我無法幫你。」

人沒有光明,鬼就會來纏身,因此性情反覆不定,一直無法做出有智慧的決定。
餐會精彩回顧:
一、人,為什麼老來問題很多?
二、人生是一場遊戲,要玩一個遊戲前,我們必需先懂遊戲的規則。
三、師父問:「你們的人生願望是什麼?」
❖ 出席者A答:「要有錢。」
     師父回:「我看你沒有植有錢的因,就不會有有錢的果。」
❖ 出席者B答:「要成功。」
    師父答:「你的思想那麼亂,如何成功?」
四、用兩手用餐,和發達有何關係?
五、把真性格拿出來,做人不要虛偽,但對長輩和師長一定要尊敬。
六、師父問:「天爲什麼不會塌下來?」
眾人答案不一,如因爲天是空的、是神佛居住之地等等。
師父解說:天有德,所以天不會塌。地有德,所以地常載。星星能發出光芒,所以有德。妳你們要有錢,妳你們要先學「德」。
不是妳你的,不要拿。不要做別人的小三、小四、小五,不要偷別人的。
七、這餐會的主題是大法,因此不會一次就能講完。師父也必須依出席者的根器而教授。
八、很多人對待男女之事,抱著玩的態度。師父直言,妳你既然要玩,妳你就要負責任。
九、聚財八法(一):行。師父細細解說,何謂行?
十、人後面有神,或有鬼,如何影響我們的財富?
十一、人一定有做錯,有很多過失,必須懂得懺悔。懺悔是所有宗教的共法。
十二、懺悔不能拖,猶如一件百年沒洗的衣服,一直拖,衣服祇會越來越髒,但一洗,就煥然一新。
十三、師父分析出席者的面相:
❖ 怎樣的眉毛屬:
• 生命力不強、
• 幻想型、
• 事業心很重、
• 精神不集中、
• 暴力型等等?
❖ 哪一種額頭,屬思維敏捷、能輕易地抵擋誘惑?
❖ 瀏海梳下,或上,對個人的「錢」途,有什麼影響?
❖ 法令紋美不美,顯示什麼?
十四、師父問:「你們做了什麼善事?」
眾人憶起稀少的善事,一只手算得清,大多都是在求學時期,或因爲某些元素,才去做,而非真發心想解除他人的苦。
師父笑談,某出席者,曾在街頭義賣,買了一枝花,然後轉送給師父,卻沒坦言是捐款得來的,直到師父問,怎麼這朵花有街邊,及很多人摸過的磁場?
這樣的「借花獻佛」非但不善,而且欠缺送花給師父該有的誠意。
等等。
心要光明磊落,我們要修出內在光明,不要做偷雞摸狗的事。
師父舉例說明,不要以爲在黑暗的房間裡,伸手去非禮另一個人,對方看不到,警察就捉不到你。頭上三尺有神明,還有日遊神、夜遊神和值日功曹,神目如電,沒人能逃。
善神均是依我們頭上的光,來護持我們。我們想要的一切,均建立在「德」。做生意,一定要做良商,不要欺負客人。
所謂的「行」,也當然包括做善事。
要行運,必須先有行動。聽了師父的教導,回去立刻做,不要老是癡心妄想,那成功就理所當然屬於妳你的。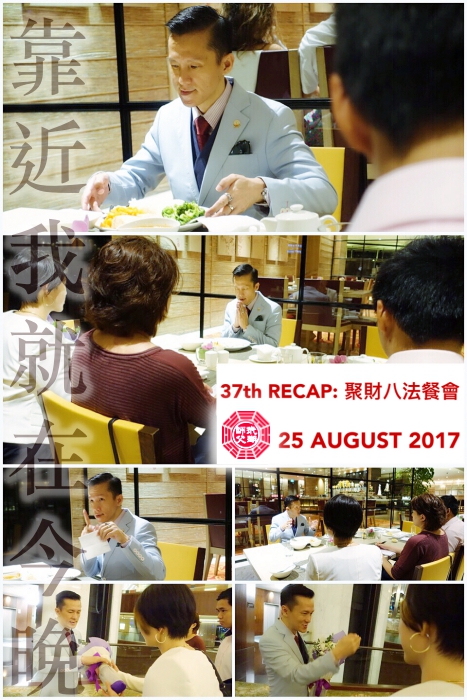 Master Dai Hu held the 1st in a series of 8 Learning Sessions of his Learning Sessions, themed "The Eight Methodologies to Amass Wealth".
In this series, Master will teach the participants how to transcend their daily "get rich" day dreams into reality, via the use of Chinese Metaphysics and the Dharma.
Master advised, "A person of big ambition must take bold steps, and not drag one's feet".
There was one participant who had asked several times for Master to analyze her Bazi, but was refused on every occasion. Master said: "You still do not have faith and believe in me, thus I am unable to help you.".
If one does not have the Light in him, ghosts will engulf him, causing upheaval in his emotions and his inability to make wise decisions.
Highlights of the Learning Session:
1. Why does one's problems multiply as he ages?
2. Life is a game, and we need to know the rules before we start playing.
3. Master asked all participants, "What are your life aspirations?"
Participant A answered: "I want to be rich".
To which Master answered, "I do not see you plant any seeds (causes) of wealth, so do not expect the reap the fruits (wealth)."
Participant B answered: "I want to be successful."
To which Master pointed out, "You have such turbulent thought patterns, where is success going to come from?"
4. What does eating with both hands got to do with getting rich?
5. Show your true personality, and refrain from being a hypocrite. However, please be respectful to your elders and seniors.
6. Master asked: "Why won't the Heavens collapse on us?"
The answers from the participants were varied, such as because the sky is empty spaces, or because the Heavens is where the Gods reside, etc.
Master explained, "The Heavens is virtuous and filled with merits, therefore it will never collapse. Likewise, the Earth is similar, holding everything up in benevolence. A star can radiate light, therefore it has virtue.
If you want to be rich, learn to be more virtuous. If it is not meant to be yours, do not take. Do not be a mistress to a married man, stealing what is not yours in the first place.
7. The knowledge shared in this meal session is immense, therefore it cannot be transmitted in merely one session. Master needs to teach, according to the intellect level of the participants.
8. Many people treat man-woman relationship very lightly, often with a playful attitude. Master frankly advised that you must bear the consequences of your "play".
9. Wealth Accumulation Technique 1 of 8: 行
Master explained in Feng Shu detail what he meant by "行".
10. A person may be backed by Gods, or Ghosts. How will that affect our wealth?
11. To err is human, but one must know to repent for his many mistakes. Repentance is a common theme in all religions.
12. One must not procrastinate in doing repentance. It is like a soiled clothing not washed in a hundred years, and will continue to get dirtier with any delay. However, once it is thoroughly washed, it becomes as good as new.
13. Master analyzed the facial features of the participants:
❖ What kind of brows signifies:
• a weak life force,
• a dreamer personality,
• a career-minded individual,
• a weak mental disposition,
• a violent personality, etc?
❖ What kind of forehead signifies:
• a quick-thinking trait,
• a resilience towards temptations?
❖ The way you comb your fringe up or down can have such effects on your wealth luck.
❖ What significance of the appearance of the Nasolabial folds (commonly known as smile lines) has on our luck?
14. Master asked the participants, "What good deeds have you all done?"
The participants tried to recall the occasional good deeds, whose number can be counted by one hand, and mostly done during their school days. They did those good deeds not out of altruism but of other agendas.
Master jokingly recounted how one participant bought a stalk of flower, and gave it to Master without letting him know that it was from a charity event. The cat was until Master asked why the stalk of flower had the energies of many people (touching it).
Such a "convenient" way of gifting to Master is very insincere, and has no merits to speak of.
And much more.
Our hearts must be aboveboard and true to our conscience. We need to cultivate the inner Light in our heart, and never do things that "cannot see the light".
Master gave an example:
Say because you are in a dark room, and you extend a hand to molest another person. You may think that because the victim cannot see you, the Police will not be able to catch you. But the Gods standing 3 feet above your head will be witness to your unwholesome act, not forgetting the Day Patrol Deity, the Night Patrol Deity and the Day Duty Deity.
Virtuous Gods first identify us by the Light above our crown, before deciding whether to give us protection. The fulfilment of our desires is built on our virtues. If you do business, do not cheat your customers.
Taking action naturally includes acts of kind deeds.
To enjoy good luck, one must first take action. Execute the advice from Master, and not be mired in your wishful thinking. And success will surely be yours.

Leave a Comment