18th Tea Session Recap: The Secret Powers of the Rice Cooker & Water Boiler

第十八場茶會回顧:電飯鍋和熱水壺的奧祕

2017年3月4日,玳瑚師父舉辦了《以茶會友(十八)- 電飯鍋和熱水壺的奧祕》,教導出席者們如何逐步地搞好自家廚房的風水,保障家庭生計,甚至還有中獎券的機會!一家人樂融融!

茶會開始時,師父說很開心看到大家的出席。他隨之也佈露給所有的出席者們,人不走運,就是因爲身上有煞。

大家要懂得催旺一年的事業運,才能在2017年裡改命。

但無論命怎樣改,最重要是,人千萬不要懶惰,老闆才會給妳你機會。

要改命,一定要對佛法慎重。

茶會精彩回顧:
一、 沒看八字的人,如同蒙著眼睛走路,可惜人往往以金錢來衡量自己的命,結果錯過了貴人。
二、家庭要和睦,有婚約的人要自愛。不要隨意讓人愛上自己。
三、老公爲何會劈腿?
四、原來太太這樣做,如同雙手把先生供給別的女子!
五、玳瑚師父仔細解說改命大法!
六、2017年是賺錢的年,不要浪費太多時間做無聊的事,錯過良機。
七、爲何就算錢不夠用,也不要把它當口頭禪來說?
八、有些事情,不能夠交給女傭做,尤其是這幾項事!
九、人有很多病,影響了家庭和睦,最難醫的就是「心理病」。
十、常常殺生的家庭,會有怎樣的家運?
十一、不要有空沒空都往醫院去!醫院是人間地獄的縮影!
玳瑚師父對出席者的廚房擺設點評:
十二、電飯鍋與我們家庭生計的關聯。
十三、最適合大家的電飯鍋和熱水壺的吉祥品牌。
十四、玳瑚師父指點大家如何擺放家中的電飯鍋和熱水壺。
十五、哪一樣是主角,哪一樣是配角,千萬不好搞錯!
十六、2017年裡,想要當時得令、事業運超旺、得到上司對妳你另眼相看、給於很好的評估,就是要這樣做!
十七、有些事情,不要都跟女傭說!
十八、這個風水佈局能夠帶來正業的穩定,還能讓妳你有很好的副業發展!
米,經過播種和收成,吸收了滿滿日月精華和土地的滋潤在小小的身軀裡。一顆看似微不足道的米粒,卻擁有我們人體所需要的各種營養和養份。煮熟的米,象徵著我們的收成。因此怎樣擺放家中的電飯鍋,絕對是一門絕學!
一個家有非常多東西,可以用來改善我們的命運,根本不需買吉祥物,祇是看這位師父懂不懂得用。
玳瑚師父當晚所教的,是特別祇在2017年運用的風水佈局,有效期至2018年2月3日。但千萬別小看這一年的厲害!大家祇要照著做,必定會發現今年的收入會提高,而且夫妻感情更融洽。但記得,要有錢,腦筋和動作一定要懂得快!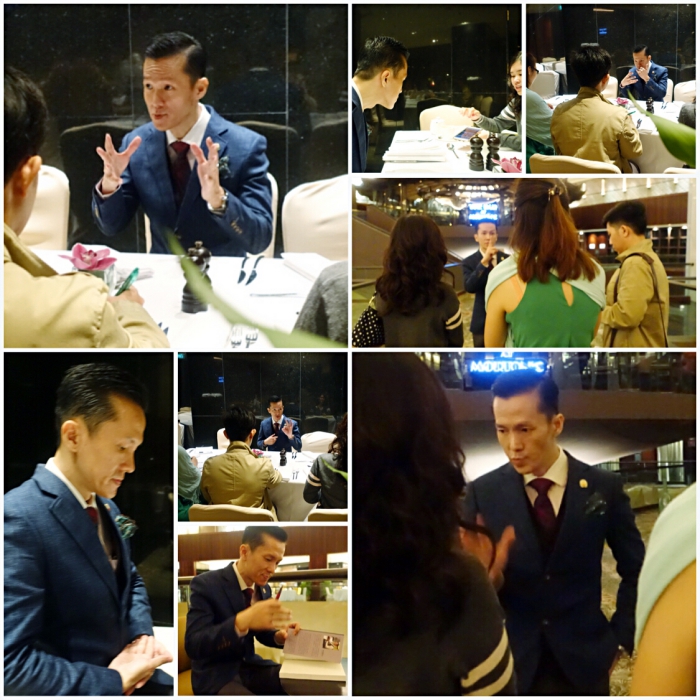 Master Dai Hu conducted his 18th Tea Session, with the theme "Hidden secrets of your rice cooker" on 4th March 2017. He imparted precious Feng Shui knowledge to the participants on how to improve the Feng Shui of their kitchens, in order to safeguard their household income, and even enhance one's luck with the lottery!
As the Tea Session commenced, Master Dai Hu expressed his happiness at seeing the participants. He subsequently told them that the only reason one is down on his luck is due to the negative energies on his body.
Everyone needs to know how to boost his/her career luck so that he/she can change his/her life this year.
However, no matter how much you can transform your destiny, it is important not to be lazy so that your boss will give you a chance at work.
Taking a serious view of the Dharma is a pre-requisite to transform your destiny.
HIGHLIGHTS FROM THE TEA SESSION:
1. One who does not know his or her Bazi, is as good as walking blindfolded. A pity that most people use money to evaluate their life worth, and missed a lot of benefactors along the way.
2. For a family to stay harmonious, married couples should keep to their vows and avoid deliberate attraction of third party.
3. Why does a husband stray?
4. The Wife did this! It's no wonder she "presented" her Husband to the other woman.
5. Master Dai Hu explained in details the Way to transform your destiny!
6. 2017 is the year of wealth generation. Do not waste time on trivial matters and miss the boat!
7. Why you should abstain from always mentioning you are broke, even if you are!
8. Some things such as these must never be delegated to your domestic helper!
9. Humans suffer from a myriad of illnesses, affecting the family harmony. The toughest of them to cure is emotional afflictions.
10. What happens to the family luck, if the members often commit the misdeed of killing?
11. Do not frequent the hospital unnecessarily. The place is a mortal manifestation of Hell!
MASTER DAI HU'S CRITIQUE OF THE PARTICIPANTS' KITCHEN DISPLAY:
12. The link between our rice cooker and household income.
13. What are the auspicious brands of rice cooker and thermal flasks suitable for everyone?
14. Master Dai Hu advised all participants the proper placement of their rice cookers and thermal flasks.
15. Do not mix up the main role with a supporting one!
16. This is what you must do to excel in your career, and attract good appraisal from your superiors!
17. There are some things, which you should never tell your domestic helper!
18. This Feng Shui technique can bring stability to your career, and bloom opportunities of growth for your side lines!

A grain of rice, cultivated and harvested, contains the full Essence of the Sun and the Moon, as well as that of Mother Earth. Though it does not appear impressive or noble, this grain contains the various nutrients needed by our body. When cooked, it signifies the fruit of our labour. Therefore, the placement of our rice cooker at home is an intricate science of knowledge!
There are plenty of household items which can be used to transform our destiny. There is no need to buy any auspicious Feng Shui item, IF the master is an accomplished one.
The techniques imparted by Master Dai Hu are effective for use this year until 3rd Feb 2018. But please do not belittle what the next 10 months can bring. If everyone follows what has been taught, you will see an increase in your income come end of the year, as well as an improved marital relationship. Do remember, you must take action (both brains and brawn) fast!

Leave a Comment