財壽在鼻子

Wealth & Longevity Lie in the Nose

很多年前,應邀為在新加坡數一數二的女傭介紹所老闆娘,勘察其陽宅地理風水,一入門吾就開門見山地說: "在這間屋子的人,每月都得傷風一次。" 這時的她,苦著臉對我說: "師父啊!那個人就是我囉!"

引述這段過去玳瑚師父勘察陽宅的真實事情,是要告訴大家,

一; 一位有證量的地理師,一入門就必須得看出端倪。

二;「屋如其人,人如其屋。」 這話真實不虛也。勘察地理,並非買個羅盤,擺一擺姿式,就行的。你妳必須得學懂理氣及巒頭學,在加上多年的實地勘察經驗與心得,後來才成爲有證量的地理師。根本沒有所謂的速成啊!

不知大家有無察覺到?當我們傷風感冒時,總是感到特別累,臉色也變白。看醫生,醫生也總是交代我們,回去要多喝,要多休息。其實這樣的交代,雖説無可厚非,事實卻並不如此,依吾多年的修學經驗,傷風感冒時又因冷火因熱之分。若因熱的傷風感冒,多喝水恐怕會加重病情啊!這點大家不可不知哦!

爲何說財壽與鼻子有關?内行人不會有此一問。外行人就請您靜下心來,好好消化玳瑚師父,特別為您撰寫這篇文章。所有有機緣讀此文章者,真是有福氣啊!在相學裏,鼻子本來就代表財帛。而壽爲何又和鼻子有關係呢?吾反問諸位,什麽人呼吸最弱的?是的,那些快要走到生命盡頭的人,氣若游絲的人。因此,你妳的呼吸若不順暢,是會影響夀元的。那常常傷風感冒的人,每次求醫的費用,以及無法洽談生意等等,都屬破財啊!

鼻子在居家中,當然也有它專屬的位置,這就要交由高明的地理師去處理了。天氣轉涼了,夜出或在家,別忘了加件衣服,注意飲食,規律生活,培養一副好的體魄,一切的理想與計劃,才能去實現。最起碼,也能保藏你妳的財與壽,大家要善自珍重。感恩。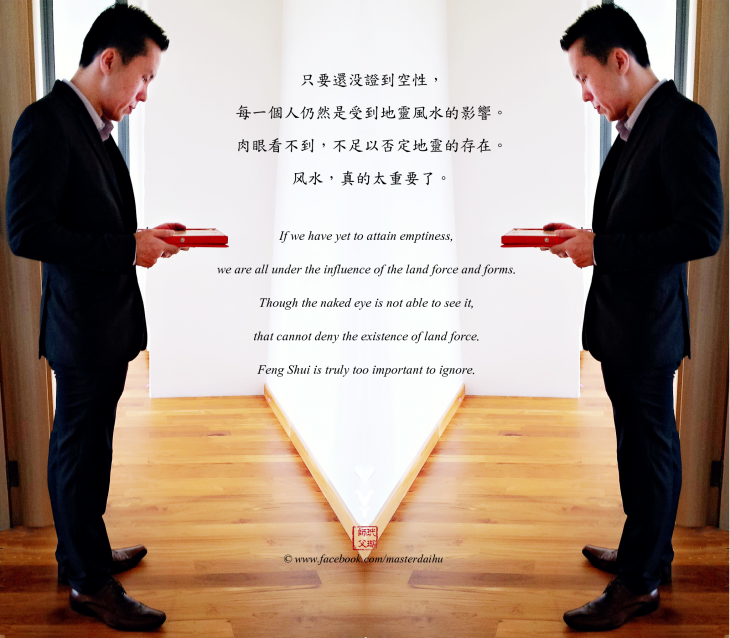 Many years ago, I was invited by the lady boss of a top-tier maid agency in Singapore to audit the Feng Shui of her residence. The moment I stepped into her abode, I said frankly:"The people living in this house is bound to be stricken with cold and flu every month." Upon hearing that, the lady boss lamented:"Master, hat person is me!"
Citing this true story of my past geomancy audits, I wish to tell everyone this:
1) A Feng Shui master worth his salt must be able to pin point the intricacies of a house the moment he enters a house.
2) Secondly, a house is alike to its owner, and vice versa. This is a very stark truth. Doing a Feng Shui audit is not just about buying a Feng Shui compass and striking a pose! You need to learn about the land forms and movement of the energy force, coupled with years of practical experience before you can be a accomplished geomancer. There is absolutely no short cut!
I am not sure if anyone has this observation: every time we are down with cold or flu, we tend to feel very tired and our faces will be a white as sheet. The doctor will always advise us to take more fluids and get more rest. Such inevitable advice is not applicable every time. According to my years of experience, the cause of our common cold is either due to excessive 'heat' or excessive 'cold. If it is due to excessive 'heat', drinking more water may exacerbate the illness! This is something everyone must know!
What has the nose got to do with our wealth and longevity? People in the know probably would not be asking this question. For the curious layman, please calm your mind and appreciate this article specially written for you by Master Dai Hu. For those who get the chance to read this, lucky you! In the art of face reading, the nose is considered the storage of wealth. Why is longevity related to the nose? Let me ask everyone a question: What kind of person has the weakest breathing? Yes, the dying person has the most feeble breath. Thus, if you have breathing issues, it would affect your longevity. Those who often suffer from cold and flu have to spend on medical expenses and lose the opportunity to conduct business transactions etc, losing wealth in the process!
There is a specific sector within the house that represents the nose. Let's leave this to the accomplished geomancer to handle. The weather is turning cold, be it you are indoor or outdoor, don't forget to wear more clothes, be mindful of your diet, regulate your lifestyle and work towards a healthy body. With these, you will be well-placed to strive for your dreams. At the very least, it will insure your wealth and longevity.
Please stay well. My gratitude to everyone.

Leave a Comment