醫學以外的治療方法 : 玳瑚師父不可思議的加持力

Alternative Treatment Beyond Modern Medicine: Unbelievable Power of Master Dai Hu's Healing Ability.

文 / 蔡曜陽先生  Written by Mr Chua Yaoyang

不知不覺我已認識玳瑚師父有五年的時間了。每當我需要做出人生中某些重要的抉擇時,我一定會尋求師父的幫忙。我也相信有很多客人因為得到玳瑚師父寶貴的指點而從中獲益不淺。然而,許多人卻不知師父不僅能給予玄學方面的指點,師父也有能力幫助解決與健康有關的問題。
玳瑚師父如何治好我的

結膜炎
去年十一月,我的左眼兩度感染了結膜炎。第一次的病發,我的眼睛又紅又腫,可算是蠻糟的。於是,我便求治於西醫。事隔兩日,我的病情並沒有好轉即使按時服用了藥物。玳瑚師父知道了這件事,便加持了我的左眼。這整個過程才花了少過兩分鐘的時間,但我眼睛的狀況卻在隔天神速般的好了許多。甚至能算是已恢復正常因為眼睛消腫了。我感到萬分的驚喜並親自向師父道謝。
一星期後再度感染結膜炎!
就在一個星期前,我的左眼再次的感染了結膜炎。但這次的情況比上次來的嚴重。眼睛通紅還不停的流出淚水,影響了我整日的工作行程。最後,連我的右眼也被傳染了。我不得不去尋求專科的治療因為這次真的很嚴重。眼科醫生表示這種情況大致上需要五天到一個星期的時間才會好轉。
不可思議的加持
情急之下,我又請求師父加持我的雙眼。在短短的三天之內,我的雙眼竟然神奇般的好轉了很多。那些症狀都消失了。而此刻正在寫這篇見證的我,雙眼也似乎痊癒了。
我真誠的感恩玳瑚師父慈悲的加持即使這並不是他專業範圍內所提供的服務。這也顯示了玳瑚師父是真心的關懷他身邊的每一位客人。師父不僅絞盡腦汁替我們解決生活上的難題,他也關注到我們的身心健康。玳瑚師父可說是罕見的'稀有品種',所以我們務必要珍惜與師父之間的緣份。在今時今日,能為他人利益而犧牲自己寶貴的時間和精力的師父已寥寥無幾了。
網主備註:
玳瑚師父不提倡迷信。有病應該先看醫生。如果醫生無法治好,那可能是鬼神病、因果病、祖先墳墓或居家風水問題,屆時,可以聯絡玳瑚師父給予您這方面的協助。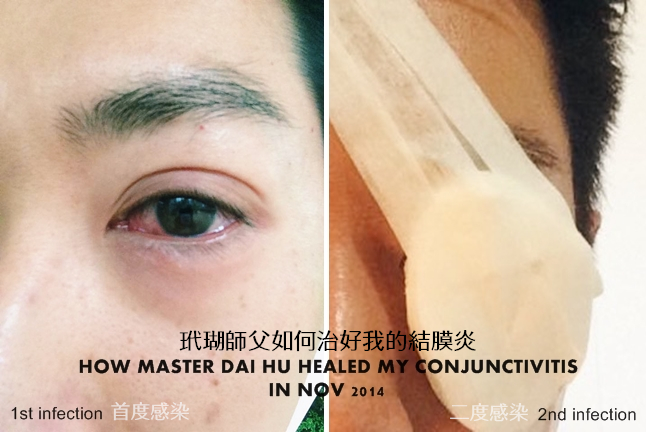 I have known Master Dai Hu for 5 years now. And I have always sought Master's help when it comes to important life decisions. I am sure many customers had immensely benefited from Master's precious advice. However, not many people are aware that beyond the usual metaphysics advice Master gave, he could also help with health related issues.
How Master Dai Hu healed my conjunctivitis
In November 2014, I contracted conjunctivitis twice on my left eye. On the first occasion, my eye swelled up quite badly. Hence I went to seek medical treatment from a local GP. However, my condition did not improve after two days of administrating medication. Master came to know of this and offered to bless my eye in a bid to improve the situation. The whole blessing process took no longer than 2 minutes. But the next day when I woke up, my eye's condition improved drastically. In fact, the swelling had subsided so much that it was looking normal. I was pleasantly surprised and thanked Master personally for his empowerment.
Conjunctivitis strikes again one week later !
One week later, I was again diagnosed with conjunctivitis on my left eye. And my eye condition was much worse than the first time, the whole eye was badly infected. It was bloodshot and tearing non-stop for the entire day, affecting my work. Eventually, the condition spreaded to the healthy right eye. I went to seek the eye specialist's treatment, as the condition was bad enough this time. The doctor told me that this condition would take at least 5 days to a week to see any improvement.
Incredible healing power of Master Dai Hu
Desperately, I sought Master's help again to bless my eyes. Amazingly, it took just 3 days after Master's empowerment and my eyes were almost 90% healed. The redness and soreness were gone. There was hardly any trace of the infection at the end of the third day.
I sincerely thank Master Dai Hu for his compassion to help me even though this is outside the scope of his professional services. This shows that Master Dai Hu genuinely cares for each and every one of his customers. He not only takes great pain to solve our life challenges but issues with our physical well being too. Master Dai Hu is a rare gem and we ought to cherish our relationship with Master. After all, where else can we ever find someone like him who is ever so willing to sacrifice his valuable time and effort for the benefit of us all?
Webmaster's footnote:
Master Dai Hu does not advocate superstition. A person with any ailment should first consult a doctor. If there is no recovery despite repeated visits to the doctor, this ailment may be caused by spiritual disturbances, karmic retribution or Feng Shui disorder in the residence or ancestral graves.  The patient may then wish to contact Master Dai Hu for his assistance.
Leave a Comment