陽宅風水立桿見影

The Swift Results Of Yang House Feng Shui

近二十年的陽宅勘察,吾對於「風水」所得的結論是,真的是立桿見影。我們祖先所留給我們的智慧遺產,果真是大寶貝,也是祂們給於入世出世,以及人類的偉大 巨獻。吾個人所造福的陽宅,或受福的陽居者實例,不知要寫上多少本書,才能寫完呢!且未來的未來,依然會有多如天上繁星的實例,更是不知要寫上多少本書, 才能一一呈現於妳你們啊!

現在吾就舉一些實例吧!
(一)一位少婦請吾勘察其陽宅風水,直言要個女寶寶。吾也直言相告沒問題。過了數月來電報喜,真真確確是名女嬰。那時還傳為佳話呢!

(二)有位由吾之弟子介紹來的女老闆,因業績不理想,請吾勘察其公司,後來業績顯著理想,再請吾為她旗下的公司「走一趟」,這一走就走了七間公司,而且還指定要吾繼續為其未來的新公司效勞。祇是那時忘記向她索取顧問費。哈!哈!哈!

(三)有位承包商經多年好友介紹,找吾勘察其新屋風水。勘察後的某一天,他與其多年好友通電話,並在談話中向其多年的好友透露,他正在數錢。自從請了吾勘察其新屋風水,生意蒸蒸日上。其實吾也要感謝他的信任。為什麼?因為他還請吾為他開光天公佛龕、家中神明,以及地主神,而他也對吾畢恭畢敬,事後還額外給 吾一個紅包,吾則感恩地對他說: "做人勿貪,況且你也給於吾應有的酬勞。"

才三個實例,已佔據了多少的版位。救人等同救己,當中的愉悅與成就感,皆難形容於筆,我們祖先的偉大功德,可見一般,是故應感恩祖先們。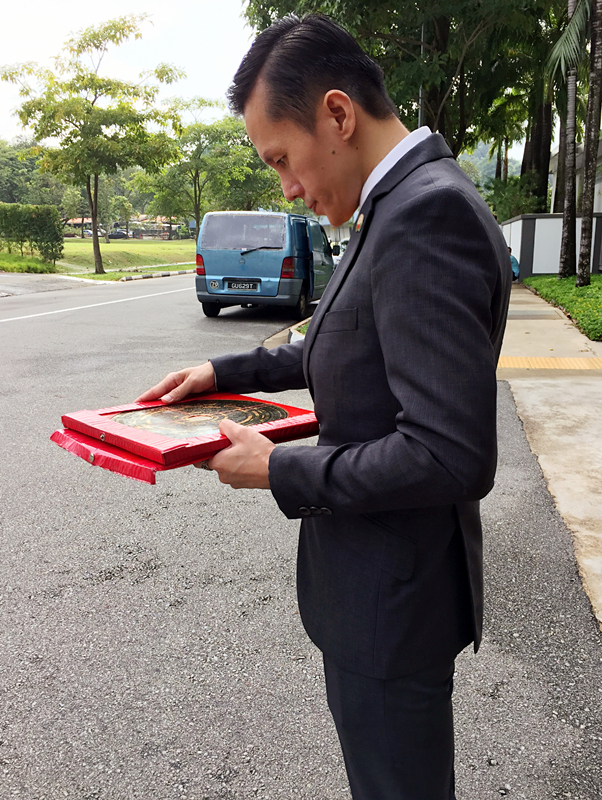 After nearly 20 years of conducting Feng Shui audits, I came to this conclusion: Feng Shui never fails to work and the results are swift, just like the shadows formed as soon as the pole strikes the ground. This knowledge of Feng Shui left behind by our ancestors is indeed a huge treasure. It is also their contribution to this world, to all of mankind. The number of families whom I have benefited through Feng Shui can be written into countless books! And with more real-life examples, to be as many as the countless stars in the skies, coming in the future, I am not sure when I can really put these into books and present to you!
Now let me share a few real-life examples:
1) A young married lady engaged me to do a Feng Shui audit and told me honestly that she wanted a baby girl. I told her directly that it was not a problem. Several months later, she called and joyfully told me that she had indeed gave birth to a baby girl. Word went round and many of my clients knew about this.
2) A lady boss, upon recommendation by my disciple, requested for me to do a Feng Shui audit, in bid to save her flagging business. Her business subsequently took a turn for the better and she invited me to conduct Feng Shui audits for her other 7 companies! She even expressed her interest to engage me for her future companies! I should have requested for consultancy fees. Ha ha ha!
3) A contractor got to know me through his long-time good friend and engaged me to conduct a Feng Shui audit for his residence. One day, when he was on the phone with this long-time good friend, he mentioned that he was counting money. His business prospered after my Feng Shui audit and money was rolling in! Actually I would also like to thank him for his trust in me. Why? Because he even engaged me to perform consecration for the Heavenly Jade Emperor and other gods, including the Earth God at his residence. He was very respectful to me and even offered additional monies in a red packet, after engaging my services. Although I was thankful, I declined politely, saying, " We, as human beings, should not be greedy. Furthermore, you have already paid me what I should be getting."
I have just shared 3 real-life examples and they have already taken up so much of this article. Saving others is akin to saving oneself, and the joy and satisfaction of doing so cannot be fully expressed in writing. The great merits of our ancestors cannot be taken lightly and we must always be grateful for that.

Leave a Comment