李木源居士的舍利子

The Relics of Mr Lee Bock Guan

這篇報導證明了佛法的教義是真實而不虛的。李木源居士一生貢獻給佛法,精進地行善,如此堅固的精神持之以恆,因此就會有了舍利子。

舍利子,又名「堅固子」,是一個人修戒、定、慧而成,唯得道之人才有。這也再再地提醒我們,修行真的能夠證果,真的能夠利他也利己。就算人不在了,也會留下一種證據給後人知道他的努力並非是一種天方夜譚或海市蜃樓。

親愛的讀者粉絲們,這就是一種修行的結晶。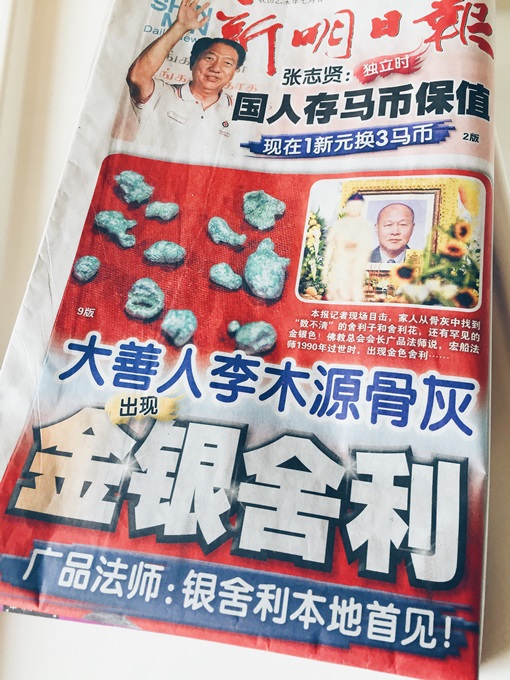 Headline of Shin Min Daily on 4/9/2015:
Gold and silver-coloured relics appeared in the ashes of Mr Lee Bock Guan, a great philanthropist. Reverend Guang Pin said it was his first time sighting silver-coloured relics in Singapore.
This news report established the truth that the teachings of Buddha are valid.
Mr Lee Bock Guan dedicated his entire life to the Dharma, and diligently performed virtuous deeds. He was resolute and consistent in his pursuit, thus these relics appeared after his cremation.
Relics, also known as Śarīra, are formed from the body of a spiritual practitioner who had cultivated well the Buddhist Threefold Training of Morality, Meditative concentration and Wisdom. This serves as a strong reminder that we can really attain the fruits of our spiritual practice, and that in the midst of benefiting others, we also bring benefit to ourselves as well. Even after the person may have passed on, he left behind, for us all, a strong testament that hard work and effort in spiritual training is not some fairy tale or mirage.
My dear readers and fans, this is the crystallization of one's spiritual practice.

Leave a Comment