大救渡

The Great Salvation

有弟子問:師父,請問您為何寫文章?吾回答:行願。很早以前,吾就在佛菩薩前發願;弟子玳瑚願將所學,佛法及玄學同步利益諸有情。所以吾才回答行願,行向佛菩薩所發的願。其實啊!這也是佛弟子,原本本該做的事。這樣也才算是真真正正的佛教徒,上求佛果,下化眾生。行願更是學習及鍛鍊自己,做個有信用的人。

未學佛前,所有眾生皆有貪、嗔、癡、妒、慢、疑(六毒),而這六毒也就是六道輪迴的因。學佛後的眾生,就得精進不懈的盡除,這阻礙我們成佛,離苦得樂的因。就算妳你始終都不知成佛是怎麼一回事,妳你祇想「快樂」,妳你也必需先將這六毒滅除,快樂才能常伴妳你左右啊!

試想想,妳你起初說要賺一百萬,一百萬得到了,妳你又說再賺多一百萬就退休,哪知前一百萬妳你已耗掉巨大的時間與精力,後來的一百萬,妳你所耗掉的,一定不祇巨大的時間與精力,當中還必賠上妳你的健康、家庭、伴侶、子女以及修行機緣。更何況,做生意必涉及貪、嗔、癡、妒、慢、疑,殺、盜、淫、妄、酒,財、色、名、食、睡,這些再再都是墮落六道輪迴受苦的因啊!

玳瑚師父已得此智慧,也老早展開「大救渡」的工作,若妳你願意的話,歡迎妳你跟我來。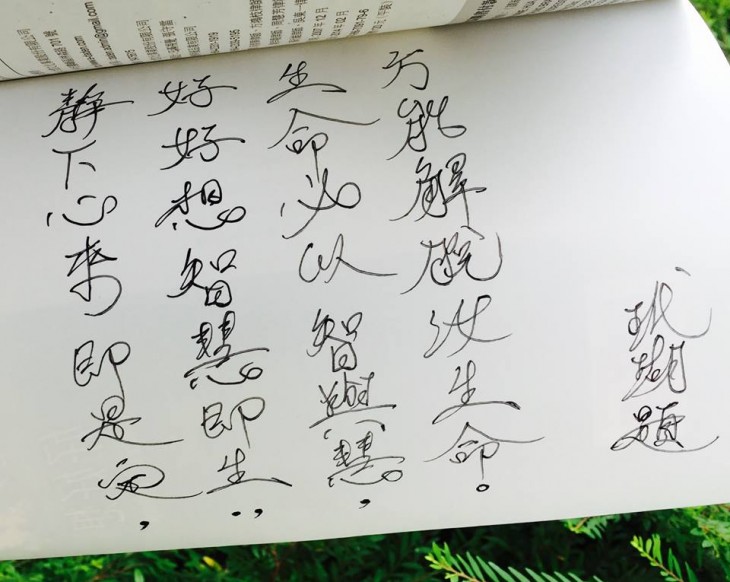 My disciple asked, "Master, what is your purpose in writing the articles?"
My reply was "To fulfill my vows."
A long time ago, I made a vow to the Buddhas and Bodhisattva that I would bring benefits to all sentient beings, with my knowledge of Buddhadharma and Chinese Metaphysics. Thus, my reply to my disciple. In all truthfulness, this is what all Buddhists ought to be doing, to live up to the name of being a Buddhist. One who seek the fruits of enlightenment and deliver salvation to all sentient beings. The process of fulfilling your vows enriches your mind and trains your will to be a trustworthy person.
Before learning the Dharma, all of us possess the 6 poisons, namely greed, wrath, ignorance, jealously, arrogance and suspicion. These 6 poisons are the very causes of our never-ending journey in the 6 realms of existence. As we learn the Dharma, we should display utmost diligence to eradicate these obstacles to our enlightenment and liberation from sufferings. Even though you may have no idea of what it means to be a Buddha and all you want is happiness, you will still need to eradicate these 6 poisons before true happiness can be experienced.
Think about it, you had wanted to make your first million dollars. What happened after you had achieved it? You said you need another million before you will retire. But you had already sacrificed an enormous amount of time and energy for your first million and in the pursuit for more, you are bound to lose your health, family, spouse, kids and the opportunity for spiritual cultivation. Furthermore, in the business world, it is inevitable that you will be tainted by greed, wrath, ignorance, jealously, arrogance, suspicion and unwholesome acts and thoughts of killing, stealing, lust, false speech and alcohol consumption. Not to mention the temptations of wealth, lust, fame, good food and sloth. These are the causes of falling into the six realms of reincarnation and having to undergo suffering!
Master Dai Hu has gained the wisdom of this truth and had long began the work of the great salvation. If you are willing, you are welcome to join me.

Leave a Comment