起名改名

Name Selection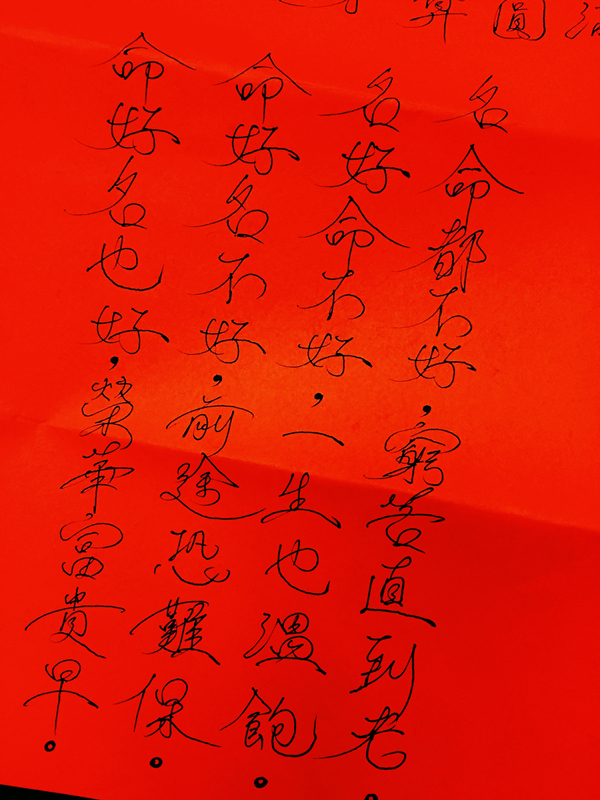 孔聖人很有名的一句話: 名不正,言不順。是的,倘若一個人的姓名唸出口、聽入耳皆不順,他、她自己不愿採用,又如何得到這姓名的加持呢?
孔聖人很有名的一句話: 名不正,言不順。是的,倘若一個人的姓名唸出口、聽入耳皆不順,他、她自己不愿採用,又如何得到這姓名的加持呢?

在這漫長的二十年裡,吾都「馬不停蹄」、廢寢忘食的埋頭鑽研祖先遺留給我們的珍貴寶藏,也是我們中華五千多年,博大精深之學問«玄學»。事實上,到今時今日,吾依然研究之,正所謂:活到老,學到老。吾想這也應該是,學者應有的心態與情操。
因吾「非一般」的研究,因此自認「手工」是優質的。但這
裡畢竟是人間,很難有圓滿的。多年來,吾的「手工」真實
的獲得肯定,讚譽也非常的多。肯定與讚譽之外,是有一些
不欣賞者。其實,並不是不欣賞,而是吾不願妥協於他,她
無知與無禮的索求。坦白說,他她要怎麼想,吾倒是不在乎
,但吾的內心是感恩的,感恩您曾選擇吾的服務。總然是陳
年舊事,吾在這裡還是真心感謝您們,並衷心祝福您們,能
遇到比吾更優秀的師父,為您們排憂解難。姓名學的內涵,是不簡單的。要為一個人撰名,首先一定要
有他她的「生辰四柱」。姓名學本來就是補先天之不足啊!
其次就是對漢字,要有一定且足夠的認識。再來就要懂得五
行生克制化的原理。單單這三個要素,就已經考倒很多很多
人了。可是要為一個人撰名,懂得以上三個要素,還是不足
夠的。你妳還必須要懂得姓名學的吉凶筆劃、字的音靈以及
字的字意,等等。若是為女性撰名,你妳還得要兼顧她是否
嫁的出去、未來婚姻生活美不美滿、會否有小孩、用了新名
字會不會比之前更美(一笑)、瘦身可否成功(一笑),等
等。其實不祇這一些,撰名的師父還得扛對方的業障,每一位師
父都不例外。因為良名必配福氣之人,歹名必配福薄之人。
所以舉凡來找吾撰名的人,吾必告知他,她應常積善德,所
求才能如願以償。要得良名真的是要靠福份。而福份來自於孝順、行善佈施、
起心動念、言談舉止,等等。有了福份,我們自然而然會碰
到有德的師父,賜予我們良名。好的姓名是立桿見影的。姓
名的力量,實不可忽視啊!

如果你妳是外行人,不要擅自為孩子命名。 名字不是你妳覺得好聽或喜歡,就夠了。
如果沒有深入研究姓名學和八字學又沒有多年的實戰經驗,
單靠看幾個網站和書籍或翻閲字典,是不可能取到良名來補
孩子命格先天的不足。父母自身的業障都搞不定了,哪有功德力來轉孩子的命呢?也不要因爲執著一定要哪幾個字,而犧牲了孩子得到更好的
名字的機會!
還是交給信的過的專業師父吧!
撰名改名服務範圍:
————-

Confucius the Sage has a famous phrase: "If the name is not proper, so will your speech". Imagine if a person's name comes out weird when read or is jarring to the ears, the person will be reluctant to use his or her name. How will the name be able to empower the person?
The last 10 over years have been a relentless pursuit to uncover the treasure cove passed down by our forefathers. This treasure which encompassed 5000 years of ancient Chinese wisdom is known as Chinese Metaphysics. Up till today, the learning never stops. As the saying goes "Live a day, learn a day", this is the correct mindset and attitude a student of Chinese Metaphysics should possess.
Due to my extraordinary level of research, my 'handwrought' skills are of a high quality. Alas, we are still in the mortal world and things can never be perfect. Over the years, my quality of work has attracted praises and acknowledgements. Of course, I have my fair share of naysayers due to the fact that I refuse to accede to their ignorant and rude requests. Frankly speaking, I ain't bothered by their opinions of me. I am still very grateful that they engaged my service in the first place. It may be a thing of the past, but my gratitude remains and I wish them well and that they will meet a better master than me to solve their problems.The essence of Name Analysis is not simplistic. To pen an auspicious name, firstly, you have to know the 4 pillars of the client's birth chart. The purpose of the new name is to address the elemental deficiencies in the birth chart.
Secondly, you must have a good grasp and understanding of Chinese characters, and thirdly, you need to know the fundamentals of the 5 elements and their interaction principles. The above 3 requisites have already sent many people packing.
But that is not all. You need to know the auspiciousness behind the character strokes, the pronunciation tone and the meaning of the individual Chinese characters. If the client is a female, there would be more considerations like the effect of the new name on her marriage, her fertility, if it will make her prettier *laugh* and/or give her a slimmer figure *laugh* etc.
Not only that, the Master also has to shoulder the negative karma of the client. This applies to all regardless which Master you engage. An auspicious name belongs to a person with good fortune. An inauspicious name certainly belongs to a person with poor fortune. Thus I never fail to tell those who come to me for an auspicious name to accumulate more merits for their wishes in life to be fulfilled.
To have a good name requires a large amount of merits. The sources of these merits come from filial piety, generosity in giving, kind thoughts and intentions, moral conduct etc. Once the merit is accumulated, we would naturally meet a good Master with morals who is willing to pen an auspicious name for you. An auspicious name will yield an immediate effect. Do not underestimate the power of a good name!
If you are a layman in this field, do not attempt to give a name to your child. A good name is not about whether you like the sound of it or that it comprises your favourite characters.With no strong research foundation in name and destiny analysis, coupled with years of practicing experience, don't go thinking that you can pen a suitable name to make up for the inadequacies in a child's destiny, just by looking at a few websites and books or thumbing through the dictionary.
If the parents are having a hard time paying their karmic debts, how will they have the merits to turn their child's life around?
And don't be too fixated on having specific characters in the name. You will be compromising on your child's opportunity to have a better name.
Best to leave it to a professional Master that you trust!
Translated from the verse in photo:
"With a good name coupled with a good destiny, a life of wealth and comfort favours you from an early age,
With a good destiny but a wretched name, there is no guarantee to your future.
With a good name, even with a poor destiny, there will still be ample food and clothing throughout your life.
Alas, with both a wretched name and destiny, a whole life of poverty and misery awaits."
Name Giving Services:
Baby Name
Child/Adult Change of Name
Business/Shop Name