武動生命

"Martial" Up Your Life!

曾經多次為殘障人士落淚。心想若有一天,自己也成殘障人

士,那該怎麼辦?人生未完成的事情,又該如何是好?學佛

開啟了智慧,這種種的「無知」,早已轉化成正知正見的光

環,保護著吾免受「顛倒妄想」之苦。認清了身體殘障實不

可怕,最怕是「心靈」或「思想」殘障。可偏偏到處皆有這

類人。阿彌陀佛。


在現實生活中,吾就常常與「心靈」或「思想」殘障之人接觸。若這類人祇出現於客人群中,相信是比較好些的。怕就怕,這類人也出現於徒弟和學生中,那就一種「造化」了。前世債,今世還,是一種因果,也是一種公平定律啊!「智慧光環」下,唯有「兵來將擋,水來土掩」了。

吾曾「施法」幫助差一點進入"殘障"範圍的人。吾也曾因過度運動,傷了筋脈,整整一個多月"徘徊"於殘障邊緣,真是險過剃頭。還好有佛菩薩的靈光加持,以及醫師的基因傳承,讓吾得以通過自己獨創的「體功」,醫好因過度運動的"傷痛"。有了實在的經歷與心得,吾更有信心將吾所創之「體功」,廣傳於有此需要及有緣想學以保健之人。

先前有提到,吾常常接觸"心靈"或"思想"殘障之人。那一天吾在授課之余,突然心血來潮,現場示範一些招數,頓時讓吾之徒弟及學生興高采烈,要求吾"上演"多一點片段,吾也就在一夜間,成為"萬千寵愛於一身"的"功夫巨星"。樂此不疲的代價,是一個字。。。累。哈!哈!哈!

有句話說得對,「預防勝於治療」。相信每個人,都有可能殘障。

更相信每個人都不願意殘障。既然如此,大家應趁能動的時候,多動及勤於動。人說:生命在於運動。吾則說: 一起來「武動生命」吧!異曲而同功。哈!哈!哈!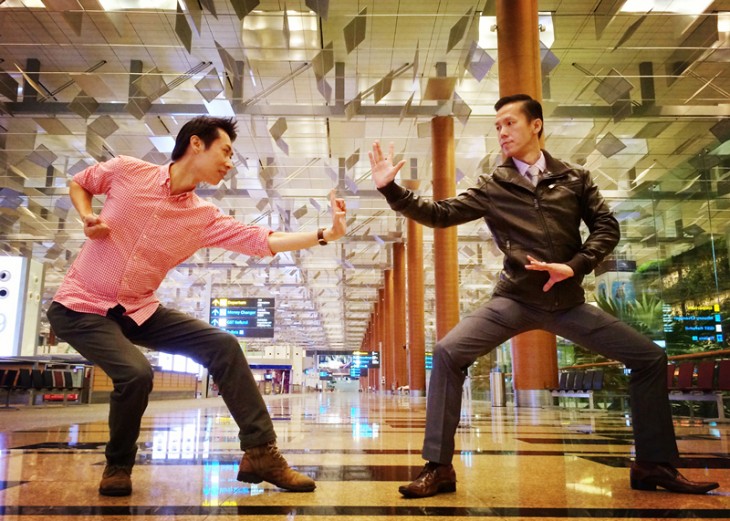 My tears fell on several occasions in the past when I see disabled people. I ponder if one day I become disabled, what will I do? What will happen to those unfinished tasks and aspirations? With new insights and wisdom from learning the Dharma, these ignorant thoughts have long been transformed under the guiding light of Right Knowledge and Right View, thus protecting me from being tortured by unwholesome thoughts. I recognized that physical disability is not fearful. The most fearful disability is those that cripple your mind and soul. But alas, there are people suffering from such crippling disabilities everywhere. Amithaba.
In real life, I am often in contact with people of mind & soul disabilities. If these people are from my clientele, I guess it is not that bad. What will be scary is if they are among my disciples and students. That would be my fate then. Debts from previous lives have to be cleared in this lifetime. This is karma and the way the Universe enforces fairness and equality. With the light of wisdom, I can only counter measure with measure, come what may.
I once helped a person who was close to being disabled. On another occasion, I injured myself due to over-exercise. For more than a month, I was bordering on the edge of physical disability. It was a really close shave. I am fortunate to receive the blessings of the Buddhas and Bodhisattvas, and coupled with the medical knowledge I inherited from my late father, I was able to heal myself with my self-invented techniques. Tested over time and with extensive practice, I am now more confident to impart these techniques to those who need help or wish to learn it for their fitness regimens.
Previously, I mentioned that I am often in contact with people of mind and soul disabilities. That day whilst I was giving lessons, I had this sudden impulse and demonstrated some moves. That got my students excited momentarily and requesting for more. Overnight, I became a "Kung Fu superstar" adulated by the millions. The price to pay for such happiness? Utter tiredness. Ha ha ha!
The phrase "Prevention is better than cure." is right. I believe everyone of us is possibly disabled, and I also believe none of us wants to be that way. Thus, let us all exercise more diligently while we still can! It is said that physical exercise is the essence to life. Well, for me, I say "Let's kick some martial buzz into our lives"! All roads lead to Rome, don't they? Ha ha ha!

Leave a Comment