如何生個孝子孝女

How to give birth to a filial child
好幾位女客人今年都懷孕了。有些早已向我放話要我等她寶寶出生後為孩子取個良名,給孩子一個好的開始。感恩妳們對我的信任。

有身孕的婦女,可以念佛,是一種胎教。如果不知道該唸何佛名持何咒,我鼓勵妳們唸"南無地藏王菩薩",也就是地藏王菩薩的洪名,每天7遍、21遍、49遍,最好108遍,回向給胎兒,直到生產。
《地藏王菩薩本願經》,簡稱《地藏經》,有記載地藏王菩萨多世生為孝女,數次以自己的大功德力救出在地獄受苦刑的母親,有'大孝'之稱。每日持地藏王菩萨的洪名,可得到祂的護佑,母親生產順利,而且會生出健康、乖巧和孝順的孩子。孩子也會相貌莊嚴、人見人愛。
看到客人孩子的八字時,我常常會感嘆。父母把孩子當成寳,卻不知孩子是來討債。將來常常生病、不讀書、很小就談戀愛、不受教、說話沒大沒小、長大不給父母錢等等,讓父母到老都為孩子煩惱。我曾到榜鵝勘察一組屋,男主人的兒子一直緊跟,當我給予男主人風水的指示時,這兒子就亂跑亂跳或抓緊父親大叫。我不說話時,孩子就會靜下來。我知道這孩子是男主人的冤親債主再來,他不想我幫他的父親,不想他好。
要有小孩之前,請自我檢討。很多人生小孩,卻沒有這個耐心和愛心來教導孩子對與錯,自己的身教、言教、道德、禮儀觀念又很差,結果製造了很多問題給社會。有過失也。你們有讀到新聞嗎?現在很多屠杀事件的兇手都是少年啊!
孩子會繼承父母的基因。如果父母有不好的習性,必有一個孩子也會有這不好的習性。父母做生意失敗,孩子也會生意失敗。父母好賭,孩子也會好賭。父母有婚外情,孩子也會不專一。父母不老實,孩子也會不老實。
取良名、佈風水能彌補先天的不足,但好的八字可以事半功倍。等到生出來,就遲一大截了。有位年經女士的八字非有福者,不會生出孝子孝女。我勸她懷孕期間要念佛,想幫她扭轉乾坤,但她性格好逸惡勞,難敵天命,果然生了克自己和丈夫的孩子,問題多多。
若真想有個好孩子,給他一個好的開始,先唸佛消自己的業障,開啓智慧吧!
送上我親畫的老夫子,祝大家有個愉快的端午節。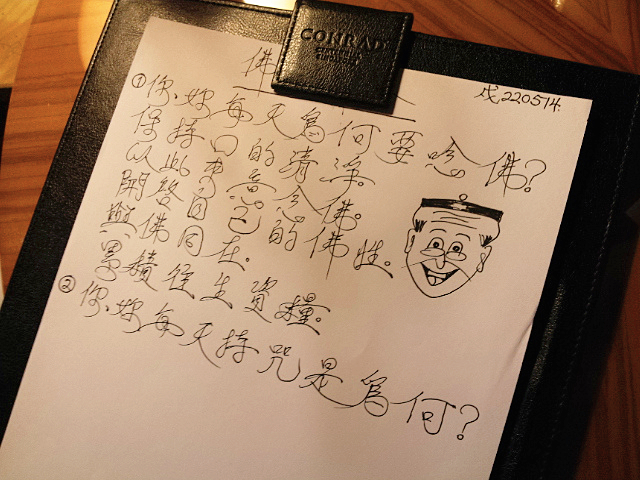 Many of my female clients got pregnant this year. Some had already preempted me that they would want me to pen a good Chinese name for their child, giving them a head start. I am grateful for their vote of confidence.
Expectant ladies can chant the Buddha's name as a form of pre-natal education. If you are clueless on how to start, I would encourage you to chant the name of the Ksitigarbha Bodhisattva (Namo Ksitigarbha Bodhisattva or Namo Di Zang Wang Pu Sa). It is good to chant it daily 7 times, 21 times, 49 times, but preferably 108 times and dedicate the merits to the unborn child all the way till birth.
According to the Kṣitigarbha Bodhisattva Pūrvapraṇidhāna Sūtra, or The Sutra of the Fundamental Vows of the Earth-store Bodhisattva, it tells of how Kṣitigarbha was born a filial daughter in several past lives, rescuing her mother from the depths of Hell with her huge amount of merits. By daily chanting of His Name, you can seek blessings from the Bodhisattva for a safe delivery. The child, born filial, will be blessed with good health, and a dignified look that draws adoration from all around.
I will sigh at times with a sense of sympathy when I read the birth charts of my clients' children. The parents treat the child as their most precious possession, not knowing that this child is actually their karmic debtor. Future problems await, e.g. the child often falls sick, fares poorly in studies, starting a relationship when still young, is unwilling to heed parents' teachings, is disrespectful, not supporting the parents financially, causing endless worries to them.
Once, I was at Punggol doing a Feng Shui audit. The child followed the father closely and would make a ruckus every time I gave my Feng Shui analysis to the client. When I stopped talking, the child quietened down as well. I knew for sure that this child was the karmic debtor of my client, and didn't want him to benefit from my Feng Shui advice at all and have a better life!
Do give a serious think through before conceiving. Many couples want to have a child but lack the patience and love to properly teach the child. The parents themselves have a poor sense of right and wrong and set substandard examples of manners and moral values, creating many social issues subsequently. Haven't you read the news lately? There were several mass killings reportedly committed by young people.
A child inherits the genes of the parents. Both the good and the bad. If the parents failed in their business ventures, the child will too. If the parents are gambling addicts, the child will too. If the parents committed adultery, again, the child will too. If the parents are dishonest, the child will too. And the list goes on.
Penning a good name for the child and creating a harmonious environment through Feng Shui can help make up for any deficiencies in the birth chart of the child. But if the birth chart is good, it will be easier. If you wait till the child is born, you will have lagged far behind.
I have a young female client, whose birth chart had low fortune and indicated that she would not have filial children. I advised her to recite the Buddha's name during her pregnancy in a bid to alter her fate. But alas, her lazy attitude ultimately put paid to my good intentions. Indeed, the birth chart of her new born child did not complement her parents' and vice versa, creating many problems.
Should you wish to have a good child, please give the little one a head start. Recite the Buddha's name to clear your karmic hindrances and increase your wisdom!
With my hand drawn portrait of Old Master Q, I wish all a Happy Dragon Boat Festival (Double Fifth Festival).

Leave a Comment