忠言逆耳

Falling on deaf ears

     有位年經男士,來找我批八字。

我說:"不要那麽早結婚。" 太早結婚,會有後患。

他說:"我已向女友求婚了,無法。"

他結婚后,我說:"不要生小孩。" 夫妻俩福薄,生的小孩會耗他們的精、氣、神,惹来煩惱多多。

他向太太說:"不生小孩,我們結婚幹嘛?"

有了小孩后,沒有人照顧,來問太太是否應該辞掉工作。

我說:"這孩子的八字不旺你們。你太太繼續工作吧!多賺點錢,可以存起來,以備后用。"

我看男士太太的八字非賢妻型,無法兼顧孩子及打理一個家,也算得到後來會有人出來幫他們帶孩子。

他們說:"既然生了,就自己照顧吧!"

結果,男士下班回家不但沒有家常飯吃,有時回家到廚房拿水喝,也沒有水,問太太為甚麽沒煮水,太太說:"你自己不會煮嗎?我忙了一整天!"

太太照顧活躍的孩子久了,身心疲憊,孩子到嵗時,就把她送去幼兒園,月花千元。後來,一名親戚得知后,說:"孩子這麽小就上學,哎呀,我可以幫你們照顧啊!"

隔一段時間看到那位太太時,照顧孩子不到一年,樣子老了,一副營養不足的樣子。她孩子也比同齡的孩子還瘦小。到他們家看风水時,客廳一片淩亂。 只靠著一個人的收入,夫妻倆不得不拮据。

男士來問我該做哪一門生意,我指點他數次,他卻遲遲不肯開始。

他說:"我過不了我心裏那一關。"

我們整個人生都是密碼,蘊藏在我們的面相、骨骼、身型、八字、名字、談吐、坐姿和住的環境裏。 我就是那個解密碼的人。 命運是80%定,20%不定。 所以命雖很難改,但是能夠改。 这是上天给你机会去弥补你先天的不足。 有些人沒有機會認知他們的命因爲沒有這福份、沒有人介紹、遇不到有功夫的師父或自身不相信。也有一部份的人相信,遇到了卻不當作一會事。

我常告訴客人不用羡慕人家,你要好,我可以教你如何好。 成功只屬於行動快的人。 無奈很多人我執障重,蒙蔽了智慧。

我看這一個小家庭,可憐、可惜、可悲。這位年輕男士本有多次改命的機會,無奈這小家庭三個人的八字互相克來克去,彼此之間只會一直有很多壓力和不開心。 人生有很多的苦,最大的苦莫過於身在苦中,卻不知這是苦。

"你可以引一匹馬到水源,但你無法使它喝水。 你可以引一個人到知識,但你無法使他懂得想。"

*此文章經過當事人的應許才發在網上。 他希望讀到他故事的人,能得到啓發,而有更大的力量速改自己的命運。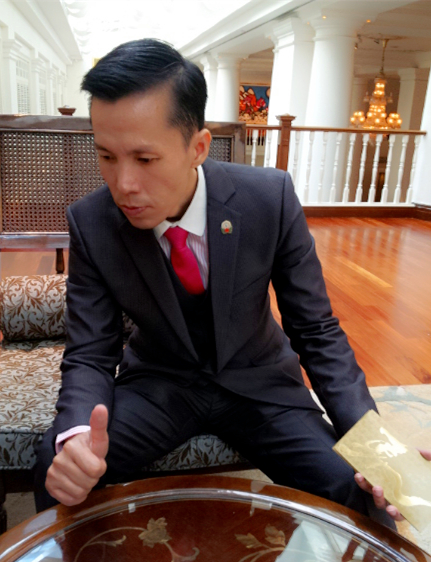 A young man engaged my service to read his birth chart.
I advised, "Don't get married too early."
There would be serious repercussion if he did so.
He said, "I had already proposed to my girlfriend. There's no turning back now. "
After he got married, I again advised, "Don't have children."
The couple are not blessed with a great deal of merits. The child they bore would exhaust them and burden them with troubles.
He said to his wife, "If we do not have a child, what is the point of getting married?"
After their first child was born, there was no one to take care of her. The young man came to me and asked if his wife should quit her job to care for the baby.
I said, "The birth chart of this child is not in your favour. Let your wife stay on to her job! It's better to continue working and save more money for rainy days."
I deduced from the Bazi of the wife that she doesn't fall into the virtuous wife category, thus would be incapable of handling both the baby and the upkeep of the house. I could foretell that there would be help coming forward to look after the baby.
They said, "Since we chose to have the child, let's look after her ourselves."
Consequently, the young man returned home from work with no home-cooked dinner to look forward to. He walked to the kitchen to get himself a cup of water, only to find the jug empty. When questioned by the husband on the lack of drinking water, the wife retorted: "Can't you boil the water yourself? I was busy the whole day! "
The wife soon became tired, both mentally and physically, from taking care of the active toddler. When the toddler became of age, the couple spent a thousand dollars each month to send the child to a day care centre. When a relative came to know of this, she lamented: "Aiya, why send the child to a day care at such young age? I can help you to take care of her. "
I met the wife after some time and found her to have aged and looking malnourished due to taking care of her child for less than a year. Even the child appeared smaller in size compared to her peers. When I visited their home for a Feng Shui audit, the living room was in a mess. With the young man being the sole breadwinner, life was lived frugally.
The young man consulted me to choose a business for him to start. Despite numerous advice, he did not take any action.
He said , "I am unable to overcome my limited self-belief."
Our whole life is filled with secrets hidden in our facial features, bones structure, body shape, birth charts, names, our habits and postures and the environment we live in. I am the decoder of these secrets.
Our destiny is 80% pre-determined and 20% yet to be fixed. That is why we still have a heaven-sent chance to shape our life, despite the great difficulty in this task. Some of us lack the merits to have their life 'decoded', while others are unable to meet a qualified master. There are also others who would scoff in disbelief or disregard when such topics are broached. And there are those who believe in altering their lives, have the luck to meet a good master but yet make nothing out of it.
There is no need to be envious of others. If you want to do well, I can show you the way. It is a pity that the wisdom of many people are killed by their own egocentrism.
This small family is in a sorry state. It is such a waste that the young man had many chances to turn his life around, but alas, the life forces of the 3 of them are in a constant state of conflict. The result is a perpetual state of stress and unhappiness. There are countless sufferings in life, but none can be compared to the inability to recognize suffering when you are in it.
"You can lead a horse to water, but you cannot make it drink. You can lead a man to knowledge, but you cannot make him think."
*This article is published online with the prior permission of the young man. He hopes that by sharing his story, more people will be motivated to have the strength to rapidly improve their lives.

Leave a Comment