「運」從口入

Eat Your Way to Good Fortune

你妳們是否有注意到?坊間的診所是越來越多間。大醫院也不祇是我們所知的那幾間如: 中央醫院、亞歷山大醫院、國大醫院、萊佛士醫院......據吾所知,有一間新的醫院就儜立在義順一帶。或許人們心中會暗道: 真的有必要或需要嗎?有沒有必要或需要,"肉眼"目前是看不出端倪來。但是,有一點是較明朗的。那就是,國人的健康已到達了"不健康水平"。

「病從口入」這句話,大家都早有所聞。可是大家卻常常不慎飲食,最終還是「病從口入」。你妳可知道?長久下來,連壽命都會被影響喔!一切的計畫及規劃,如組織家庭、生兒育女、創業、深造、追女仔追男仔,等等,都變為"石沈大海"。甚麼意思?沒了,甚麼都沒了。哈!哈!哈!留得青山在,才會有柴燒啊!每種食物都有其所屬的五行。每一種病也同樣有其所屬的五行。茹葷茹素,其實也是命中五行之所需。常言道: 健康來自於均勻飲食。這句話是沒錯,但祇說對了一半。真正要達到健康,除非你妳懂得,命中所需之用神,再配合「武動生命」。吾所謂命中之用神,是指排開生辰四柱,補以所缺之五行,就是你妳命中之用神也。舉個例子; 倘若你妳是生於冬天之人,最好別食生冷食物、別吃太多雪糕、冰棒、冬粉、果凍,等等。其實所有婦女小姐們,本來就不應該食太多生冷食物,如;生魚片、白木耳、白菜、鹹菜、冬菜、燕窩、雪蛤、西瓜、椰子,等等。不說妳們不知道,這些生冷食物乃是婦女病的"罪歸禍手",千萬不可掉以輕心、任意亂食啊!吾再次的披露這秘密,乃吾一向關注婦女病。要將「病」從口入轉化為「運」從口入,當中是有很深的學問的,容有緣再傳授。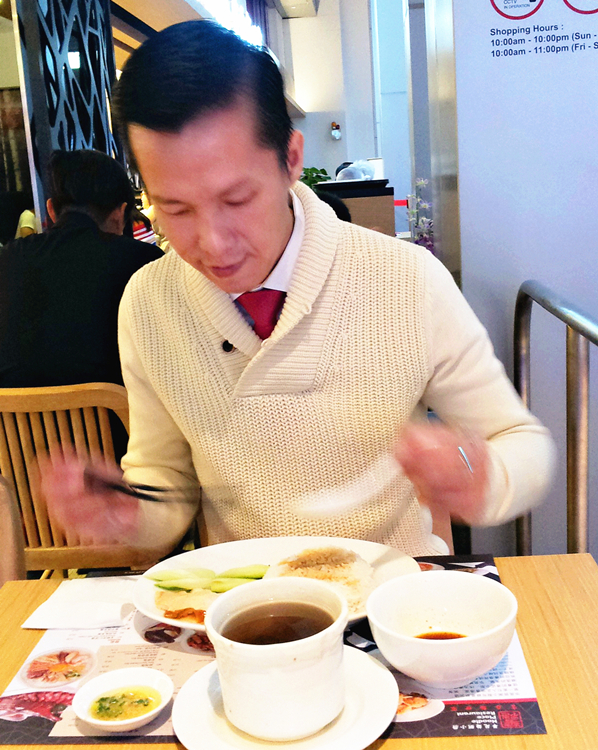 Have you noticed that there are more clinics and medical centres nowadays? The major hospitals, are no longer the familiar ones like Singapore General Hospital, Alexandra Hospital, National University Hospital and Raffles Hospital. There is a new one being built in Yishun just not too long ago. Perhaps we may think if it is necessary to have so many medical facilities. Well, our naked eyes probably cannot discern if this many hospitals are required. But one thing for sure, the health of Singaporeans has deteriorated to a unhealthy level.
I am sure you have heard of the Chinese phrase "Illness goes in via your mouth". But alas, many of us are still careless in our choice of food, ultimately bringing various diseases into our body. Are you aware that if this continues, your longevity will be affected? All your plans for your family, career, further studies, romance etc, will be like a rock sinking into the ocean. All vanished and gone! It is better to keep the forests in order to have the wood for fuel! With life all gone, what hope will there be?
Every kind of food has its own elemental type. The same goes for the different type of ailments. Whether you are suitable to be a vegetarian or not also depends on the elements in your birth chart. Many say having a balanced diet will lead to a healthy life. That is only half correct. In actual fact, one needs to know what your favorable elements are according to your birth chart, coupled with adding exercise to your lifestyle.
To know what elements are needed for your health, we first need to lay out your birth chart and find out what is lacking. For example, if your are born in winter, refrain from cold or raw food like ice cream and popsicles, vermicelli, jelly, etc.
Actually for the ladies, you ought to abstain from excessive cold, raw and cooling food like sashimi, white fungus, cabbage, salted and preserved vegetables, bird's nest, hashima, watermelon, coconut etc. Perhaps you are not aware if I did not divulge, but the above food are the top causes of many female ailments. Please be on your guard and not eat willfully. I share this information again as I am always concerned about female health issues.
To turn the tide and eat your way to good fortune instead of illnesses, there is a deep vault of knowledge which I will transmit should the affinity arises in the future.

Leave a Comment