緣近緣遠,緣深緣淺

Affinity Near and Afar, Affinity Deep and Shallow

一個星期六的上午,吾和往常一樣,修了法準備「拳打腳踢」,手機鈴聲響起來,來電者是位多年的客人,是為其弟三位孩子之名(吾撰之),難於抉擇及孩子的未來,想親自聼取吾的意見。可能是吾的平時都有「護理」吾的耳朵,一接聽這位大媽的來電,講沒幾句,吾就驚覺她在哽咽。但畢竟這位大媽是堅強的,由開始到結束,她始終沒「放聲大哭」,要不然吾別想「拳打腳踢」也別想習禪修氣了。

玳瑚師父在此要告訴這位大媽,以及諸位大德,人與人之間存在著很微妙的前世,甚至多世的因因果果,當中的恩怨情仇,實難以說明,唯有宿命通(玄學包含在内)的人,才能明白個中因果,凡夫俗子根本無法明白的。這也是為甚麽,吾這麽多年來,依然老老實實學佛及玄學,就是要為你妳們解開,你妳們心中的「枷鎖」,讓你妳們得以釋放「塵封已久」,清淨快樂的「心靈」。

相信很多很多人,都有碰過自己並不十分想要見到的人或事。可是諸位必須得知道,有因必有果,萬般由不得我們,這也是宇宙循環的真理,你妳祗要明白這真理,碰到再難搞的人,你妳就不會因爲他她,而失去你妳原本的自在。比如說,當你妳遇見一位難搞的上司,你妳要趕快想,這一定是你妳上輩子先刻薄他她,現在「輪」到他她來刻薄你妳,這也就是吾剛才所說的因跟果,有欠就需還,這樣才叫公平啊!告訴你妳哦!你妳若想與他她拼的話,這因果就無法「解」。你妳下一世還要再與他她「相約」娑婆哦!早還早自在,不是更好嗎?

其實這一切皆是緣,有些不請自來,是緣近,有些朝思暮想,欲親近之卻不得要領,是緣遠,有些在一起數十年光景,是緣深,有些祗見過一兩面,就不再聚首,是緣淺,緣近緣遠,緣深緣淺,皆是緣,那既然是緣,就「好聚好散」吧!何必「痛苦糾纏」呢?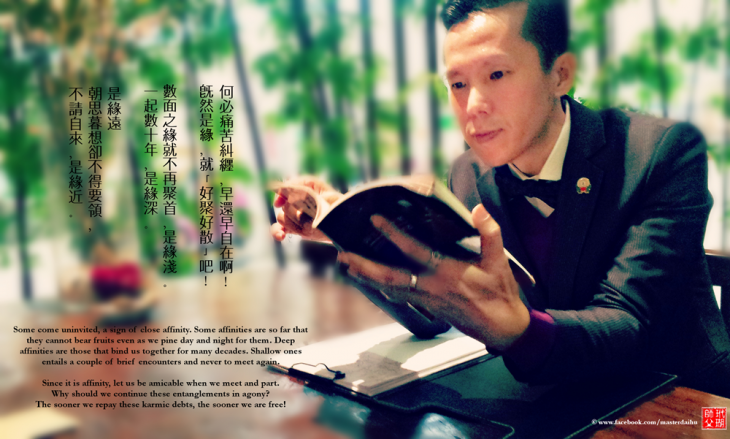 One Saturday afternoon, I was going through my usual routine, completed a cultivation session and was about to start my 'kick-about' session when my mobile phone rang. A client of many years was on the other line. She called to seek my opinion on choosing the names I crafted for her third child as well as the child's future. Perhaps I took good care of my ears because as conversation progressed, I realised that she was slightly choking with emotions. This client of mine was a strong woman and did not burst into tears during our entire conversation. If she did, I would have to say goodbye to my 'kick-about' session and meditation & breathing practice.
I would like to tell this client as well as everyone that between each of us, there exists an intricate karmic link to our past lives and many lifetimes ago. Through these connections, we are bound by gratitude, suffering, love and hatred. It is very difficult to discern and only people with the ability to read the past existences (metaphysics practitioners included) will be able to offer an explanation of the cause and effect of each relationship. Mundane beings will find it impossible to understand. That is why I have, all these years, pursued the knowledge of the Dharma and metaphysics conscientiously, so that I can help open the locks in your hearts and release the trapped souls which are pure and joyful.
I believe that many of us have encountered people or situations that we would rather not. But lest not forget that every cause would have an effect, and it is uncontrollable. This is the law of the Universe. Once you understood this universal truth, you would not lose your inner peace when you meet that person, no matter how loathsome he/she may be. For example, should you work with a difficult boss, you must quickly realise that you must have ill-treated him in your previous life, thus now is his turn to return the favour! This is the law of cause and effect I have been talking about. If you owe something, returning it is inevitable. This is fairness! Let me tell you, if you decide to fight him, this karmic entanglement would not be resolved and you are bound to meet him again in your next lifetime in this Samsara world. Is it not better to clear this karmic debt in this lifetime?
Actually these are all affinities. Some come uninvited, a sign of close affinity. Some affinities are so far that they cannot bear fruits even as we pine day and night for them. Deep affinities are those that bind us together for many decades. Shallow ones entails a couple of brief encounters and never to meet again.
Near or afar, deep or shallow, they are all affinities. Since it is affinity, let us be amicable when we meet and part. Why should we continue these entanglements in agony?

Leave a Comment