情投意合主臥房

A Master Bedroom of Love & Harmony

先談一談兩則有關主臥房的事吧!好久以前,吾的一位少東弟子帶吾去其父親家做客。那時候他的大嫂已身懷六甲。或許是好奇,或許是關心,又或許是想考一考吾這做師父的。無論如何,吾還是老神在在的,滿他的「願」。他問吾大嫂腹中懷的是男是女?吾就請他指給吾看他大哥與大嫂的房間。吾祇用了約半分鐘左右的時間,便告知他其大嫂將生的是千金,他聽了之後,帶著不可思議的眼神告訴吾,他大嫂確實已證實將產女嬰。

一對年輕夫婦,經吾女弟子介紹,請吾為她他們那簡單典雅的愛巢勘察陽宅地理風水。她他有一要求,那就是希望吾能「賜」給她他們千金一個。吾于是建議她他們改睡另一間臥房,並狠批一定如願以償。隔了一段時日,她他們歡喜來電,知會吾檢驗報告已證實是女嬰,她他們也要吾為這女嬰命名。

引述這兩則故事,當然是要告訴大家,想生男或生女,臥房實可代勞。次是要告訴大家,不要執著夫婦一定要睡主臥房,誰應睡哪間房間,是要配合個人的先命的,千萬不可一意孤行。很多來找吾的冤家夫婦、不育夫婦、婚姻亮紅燈的夫婦……,都跟睡錯房間有關係啊!

若是彼此已不再相愛,那就「讓愛自由」吧!若想破鏡重緣,就交由玳瑚師父,為妳你們點出,能讓妳你們情投意合的真正主臥房。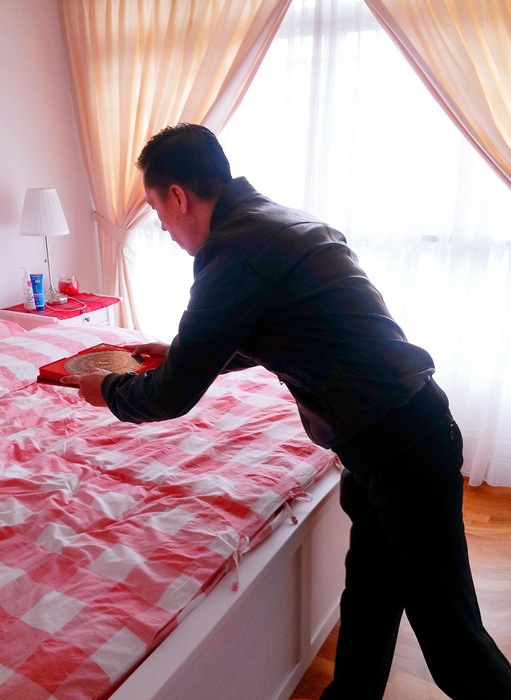 Let us first talk about 2 cases concerning the master bedroom! A very long time ago, my disciple, the son of a businessman, brought me to his father's house as his guest. At that time, his sister-in-law was pregnant. Perhaps it was curiosity that got the better of my disciple, perhaps he was concerned or maybe he wanted to test his Master. Regardless of his reason, I remained unflappable and proceeded to fulfill his wish. This disciple wanted to know if his sister-in-law would be having a boy or a girl. I asked him to show me the bedroom of his brother and sister-in-law. It only took me around half a minute of observation before I told him that his sister-in-law was going to have a baby girl. After he heard me, his eyes shone in amazement and told me that his sister-in-law had an ultrasound, which revealed that the baby would be a girl indeed.
A young couple came to me upon a recommendation by my female disciple. They invited me to do a Feng Shui audit of their simple yet elegant love nest. They had a request of me, that was to enable them to bear a baby girl. I advised them to move to another room and told them to mark my word. After some time, I received a joyous phone call from this couple that they would be expecting a baby girl, and they would very much like to engage me to pen an auspicious Chinese name for her.
From the above 2 cases, I want to tell everyone that your bedroom can influence the gender of your next child. In addition, please do not be too fixated to the notion that the couple must sleep in the master bedroom. The choice of bedroom hinges solely on each individual's birth chart. Don't be obstinate about getting things done your way. Many married couples who frequently quarreled, experienced problems in their relationships, or had fertility issues, came to seek my advice and I can tell this – the problem lies in the bedroom they are residing in.
If there is no love left, then let's set each other free! If you wish to rekindle the lost romance, then hand your problem over to Master Dai Hu to fix it and I will point out the factors in your master bedroom that will make your marriage a harmonious and loving one.

Leave a Comment