The Extraordinary Meal Session

非一般的餐會
文 / 蔡豪華  Written by Louise Choy
首先,我要感謝玳瑚師父慈悲允許我出席這次寶貴的餐會。我本身對玄學有錯誤的觀念,選擇了隨波逐流,大家信什麼,我就跟著信。但那晚的餐會讓我茅塞頓開,像一道光明把我心中的疑团驅散,敞開了我的心房,去愛地球上的每一個生命,從细小的螞蟻到另一個人。我也學到我們的每一句話,每一個動作,都會產生相對的效果,影響著我們的健康。
眼看患癌病患身心受苦,我能為他們做什麼?
據報導,癌症是我國的首號殺手,也是最耗金錢的病症,因為化療和電療都非常昂貴。我在大學時期曾經與癌症病患接觸,目睹了他們接受治療時的痛苦。他們經歷身心靈的巨變,讓我看了很心痛,聽到他們在化療時所發出的痛苦呻吟聲,我有時更會淚眼盈眶。我當時很想為他們做點什麼。這些病患和他們的家人還得面對金錢和精神上的壓力,苦不堪言。但僅管醫生盡了全力去拯救,也會有病人的病情毫无改善。
所以我會想,除了醫藥治療,我們還能如何幫助癌症病患或預防癌症呢?這些年我得到的答案,包括養成健康良好的生活習慣及基因遺傳。良好的生活素質能夠避免疾病,這是無可置疑的。可是這些就能保證我們不會患癌嗎?我有一位親戚,他平時不抽煙喝酒,天天跑步運動,飲食也非常健康,但最後還是患癌。他家族也沒有患癌的前科,你可以想像我們接獲這消息後的訝異。
玳瑚師父解開了我心中的疑團
其實要避免患癌,就必須把視野擴大去探討科學、人體運作及醫學之外的領域。參研居家風水及八字命理,和我們平日的作息,是確確實實能夠幫我們抗癌的。我就在昨晚找到了答案。請相信我,玳瑚師父所給予我們的教導,讓我思考了很久才能夠「消化」,內容浩瀚,但非常值得我們去學習和廣傳給那些有需要的人。
玳瑚師父不單單講解有關抗癌的訊息,也包括其它的疾病,如男性健康、女性健康、腦中風、心臟病、等等。
玳瑚師父不說,我還不知道我房間有「鬼」!
讓我記憶最深刻的是,師父告訴我,我家裡隱藏了一位就連我都沒有發覺的「靈異朋友」。我向鄰居的傭人打聽這屋子的歷史後,才驚覺師父果真料事如神。
我照著師父的建議去做,就再也沒有在半夜三更聽到傢具移動和牆壁敲擊的聲音了。
我非常感激他給我指點迷津,也很慶幸能夠出席師父的餐會,有緣分認識這位謙虛和踏實的師父。
如果師父再辦另一個餐會,我鼓勵大家出席,並持著一個開通的思維以及尊敬的心。最後,希望大家獲益後,要將愛分享出去,給您的至親至愛,不認識的人,甚至自己的敵人。:)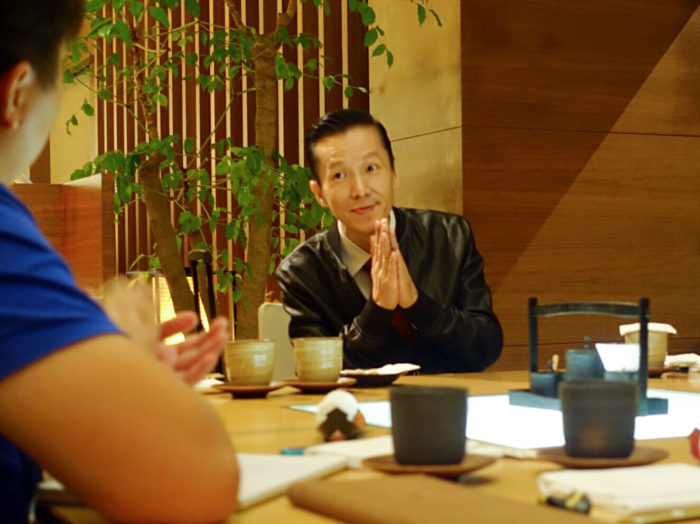 First of all, I would like to thank Shifu Daihu for his kind and compassionate heart to allow me to attend such precious tea session with him. I am someone who does have misconception what chinese metaphysics is all about and go by the cookie cutter (meaning whatever the mass choose to follow to believe in, I will follow to believe). But after this tea session, it opens up my mind like a big parachute and shifting my heart to love all beings on earth e.g from tiniest ant to human and be mindful of our words and actions that can create cause and effect which eventually lead to health problems. 
I am at a loss at what I can do to help the suffering cancer patients
As mentioned, cancer is one of the common disease in Singapore and considered one of the most expensive disease to treat or cure e.g requires costly chemotherapy and radiotherapy. I have worked with cancer patients during university days and had witnessed cancer patients going through cancer treatments. The psychological and physical changes in a cancer patient is drastic and painful to watch. Sometimes, I teared silently to myself whenever I saw patient moaning and groaning in pain during chemotherapy. I told myself I wish I could do more for these people. Not forgetting, the financial and emotional stress put on their families can be too heavy and draining to bear. There also come to a point where doctors have exhausted their medical expertise and have done everything they could to save a cancer patient but still, there are no signs of cure or improvement.
So I wonder – Beside medical treatment, what else can be done to prevent or help a cancer patient? Well, the answer I have got over the years range from adopting a healthy lifestyle or genetics. Yes no doubt, a healthy lifestyle does play a part but what if someone who leads a healthy lifestyle, and still stricken with cancer? One of my relatives who doesn't smoke, jogs and exercises everyday. He eats healthily but in the end he was stricken with cancer. Also, his family has no history of cancer. Imagine seeing our shock expression when we came to know he has got cancer.
Master Dai Hu gave me clarity!

Well, the answer to prevent cancer goes beyond the surface of understanding of how our body works, scientific and medical way.  But rather understanding of our home Fengshui, Bazi and our daily actions  do play a part in cancer prevention. So last night, I found the answers and trust me, it took me awhile to digest the lessons given by Master Dai Hu, it was overwhelming but yet worthwhile for us to learn and pass the message to others who needs it.
The unknown "Friend" in my room!
Master Dai Hu not only covered the topics on cancer but also other health issues ranging from women and men health, stroke, heart disease and many more. One particular insight Master Daihu gave me was that something (a ghost) existed in my house which I wasn't aware of and he nailed it 100% with accuracy (I verified my house's history with my neighbour's maid) !
I followed the advice of Master Dai Hu and the mysterious noises from the movement of furniture and banging of the wall just disappeared without a trace.
I am so grateful that he pointed it out to me!  I never regret coming down to attend his tea session and felt so blessed to know this down to earth and modest master.
Come and attend his next tea session if there is. Go to him with an open mind and with respect. Last but not the least, don't forget to spread love to your loved ones,  strangers and even enemies once you leave the tea session. 🙂
Leave a Comment