The Healer Master Who Brought A Windfall To My Family

賜我家橫財的神醫師父
文 / 蔡曜駿 先生  Written by Mr Chua Yao Jun
我在兩三年前,就從幾位同事那兒偶而聽聞玳瑚師父的本事與「業績」。他們各自請了玳瑚師父看了長達五年和八年的居家風水。當時我對風水處於觀望態度,直到購入了人生第一所房子,才有了請玳瑚師父勘查風水的想法。第一次致電給玳瑚師父的對話,至今仍記憶猶新。在電話那頭,玳瑚師父問了我的中文姓名與八字後,便立即點出了我從兒時就有的過敏問題,讓我深感佩服。
之前有幸能夠參加玳瑚師父主辦的茶會,學習有關電飯鍋和水壺的奧秘。玳瑚師父指點了一些在家中的小細節,居然也有旺宅,改善人際關係與增進家庭和諧的作用。
師父賜我母親橫財,還醫好我多年對咖啡的過敏!
母親曾抱怨過半年多沒中過任何彩券。之後,母親依照玳瑚師父的教導,居然不可思議的在幾周後,連續中了兩次萬字票和一次多多,總共贏得$210。
玳瑚師父除了對玄學與佛法有深入的研究,玳瑚師父也有如一名神醫。
玳瑚師父在替我看八字的時候,道出了我不應該喝茶,而更應該喝咖啡。當時我便告知玳瑚師父,其實我對咖啡過敏,早晨十點的一杯咖啡,能讓我的心臟到凌晨兩點還依然亢奮。早年試過好幾次都有一樣的反應,所以那麼多年來我都不敢碰咖啡。玳瑚師父聽了後,便說可以嘗試喝黑咖啡加少許的糖,就不會有心跳加速的問題。
隔天早上,我赫然點了咖啡,驚訝的是之前的症狀竟然沒有發生,而且喝了咖啡後,人明顯的比喝茶更精神。
還有一次,玳瑚師父聽到我咳嗽咳得厲害,便建議我在中午和晚上時段,各吃一粒雪梨並能改善此病症。
結果我只吃了一天的雪梨,隔天喉嚨已舒暢許多,咳嗽也明顯的減少了。我讚嘆玳瑚師父比我還了解我自己的身體狀況。
感恩玳瑚師父在百忙之中,仍抽出寶貴的時間教導我們向善與向上。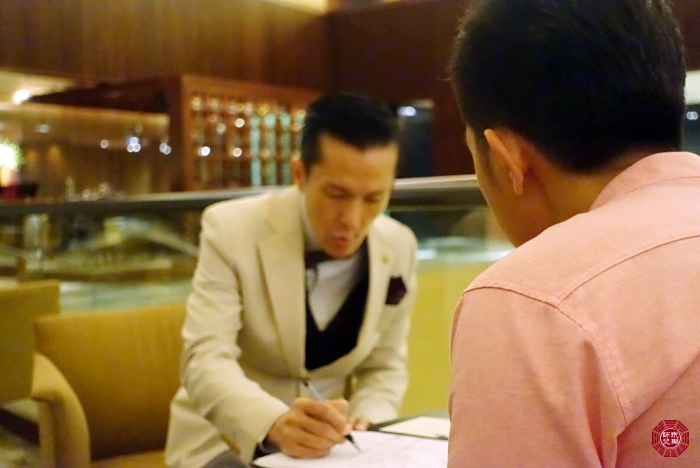 I have been hearing about the abilities and results of Master Dai Hu from my colleagues since 2 to 3 years ago. They have been engaging Master for their home Feng Shui audits for the past 5 and 8 years respectively.
At the beginning, I was sitting on the fence when it comes to Feng Shui. The thought of engaging Master Dai Hu for a Feng Shui audit came to me, when I got my first house.
I still remembered clearly my first phone call to him. Master Dai Hu asked me for my Chinese name and birth date details, and immediately pointed out a hypersensitive condition I suffered since young. I was very impressed. 
I was privileged to attend one of his Tea Sessions, where I learnt the secrets of using the rice cooker and electric water boiler in Feng Shui deployment.
Master Dai Hu imparted some microscopic details, that can bring about prosperity, improved interpersonal relations and harmony to the family.
Master Dai Hu brought lottery luck to my mother, and healed me of a coffee allergy!
My mum implemented the advice from Master Dai Hu, and two weeks later, struck the lottery. Not once but thrice (twice with 4D, once with Toto), consecutively, winning a total prize money of $210! It was incredible. Before this, she was complaining that her lottery luck had deserted her for the past 6 months.
Beside his in-depth knowledge in Chinese Metaphysics and the Dharma, Master Dai Hu is like an accomplished healer too.
From my Bazi, he advised that I should refrain from drinking tea, but take coffee instead. I told him about my sensitivity to coffee. I once drank a cup at 10am in the morning, only to leave me with hyper heartbeat all the way till 2am the next day! I had attempted this several times the past years and the end reaction was the same. Thus, I stayed away from coffee the last many years.
Master Dai Hu then advised me to drink coffee without milk and with less sugar to negate the effect of faster heartbeat. I tried his advice with coffee the next morning and lo and behold, I did not experience the symptoms I got previously, and I felt more energised compared to drinking my usual tea!
On another occasion, Master Dai Hu noticed that I was coughing quite badly, and advised me to eat one golden pear at noon and at night. After taking the fruits for a day, my cough subsided and my throat felt so much better! I really salute Master Dai Hu. He knows my body condition better than I do!
Thank you, Master Dai Hu, for offering your precious time to teach us the way to kindness and betterment.
Leave a Comment