THE MASTER DAI HU WHOM I FEARED

讓我畏懼的玳瑚師父
文 / 林淑麗 女士。Written by Mdm Athena Lim
我有幸在2017年七月二十六日參加玳瑚師父的餐會。我起初非常害怕師父,但在餐會後,我感覺到他其實是位很關懷他人的師父。坐在師父對面時,我有種莫名想哭的感覺。我自己也說不上爲什麼。
在餐會時,我把自家客廳的照片給師父看,請他指點。師父指示說一定要把那曼聯足球隊的徽章取下。我回去後跟先生說,這徽章會影響我們的孩子。取下後,當我坐在先生的身旁一起用晚餐時,感覺自心的重擔突然消渣,心靈非常輕鬆。雖然我時不時還會想起先生的行爲,但我不會忘記當天那如釋重負的感覺。
我非常感恩玳瑚師父的耐心與關懷。雖然祇是僅僅一場餐會,我已經學到了很多寶貴的知識。我會繼續閱讀師父的文章,因為有些文章讓我領悟到我從沒想過的事情。
我希望能夠繼續向玳瑚師父學習。我也會謹記師父的教誨,在餐前持「往生短咒」。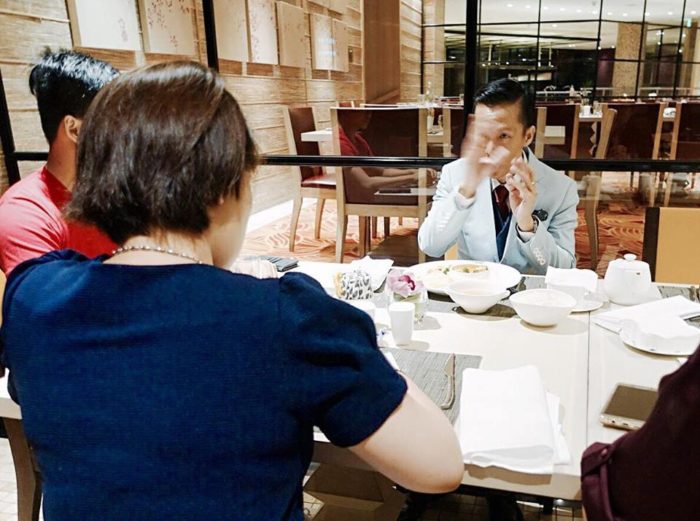 I attended the meal gathering on the 26 July 2017. At first I was very scared of Master Dai Hu, but after having the meal session with him, I feel he is really a very caring Master. When I sat opposite him, I had this feeling of wanting to cry (I don't know why as well).
When I showed Master my living room photos, he commented on the Man U logo should be removed. I took his advise and inform my husband to keep the logo in order for the safety of our baby. After the logo has been removed, when I sat down next to my Husband to have dinner,my heart felt lighter! It was like a heavy load being taken off from my heart!
Even though now and than I still think of what he has done, I will never forget the feeling of a heavy load being removed from my heart.
I really want to thank Master Dai Hu for his patience and care, I really learnt a lot from him even though it was just one session with him. I will continue to read his articles! Some of the articles really make me realise things that I had never thought of.
I do hope I can continue to learn from Master. And I will continue to chant the short Mantra of Rebirth to Pureland, before I consume my meals.
Leave a Comment