41st Learning Session Recap: A Wonderful New Year of Abundance

第41場回顧:旺得福大肥年餐會

玳瑚師父於2018年1月6日舉辦了2018年裡的首場餐會,《旺得福大肥年餐會》,教導如何在新春佳節間,養精蓄銳,過個旺得富的大肥年。

餐會開始時,當每個人都點了自己的晚餐後,師父隨即問出席者們,可否注意到負責點菜的侍應生,臉上有何特徵?

出席者說出各自答案後,師父便說大家的答案都錯了。

師父說出正確答案後,便說當大家看到一位侍應生有這樣的特徵時,最好就不要跟他點菜,因為祇會受氣。 眾人笑著點頭。

接著,師父請出席者們給自己掌聲,說今天是她們在2018年裡的大好日子。

春天,是大地復甦的季節。夏天,是百花爭豔的時候。在秋天,人會比較容易憂愁, 而在冬天, 會不想做工。

有人問:「那不是和動物一樣嗎?」

師父笑答:「人的欲望不除,和動物又有何不一樣呢?」
餐會回顧:
一、每一年的開始,都是我們可以爲自己的運氣『進補』的時候。
二、見到師父時,向他合掌,有何寓意?
三、師父問一位出席者,難得見到師父,爲何苦著臉?
四、孝順,不是每個月給她他們家用而已,而是每次見到父母時,也要保持笑臉。
五、過年期間,不要做的三件事。
六、身體裡也會出現的四季, 如何能夠看出,及對個人運程的影響?
七、哪些年菜一定要烹調?
八、哪七道年菜能爲一家人大增運?
九、過年擺八寶盒,是吉還是凶?
十、過年期間,哪些飲料不能少?
十一、新年時,如何能接到財神、喜神、福神和貴神,並讓祂們在妳你家呆久一點?
十二、爲何吃飯不要坐在底處吃?
十三、想要功名利祿,除夕夜,千萬別吃哪種食物?
十四、餐桌,哪個形狀最佳?
十五、家中常有爭執,不吉利之事發生,原來就是因爲餐桌擺在這!
十六、玳瑚師父舉例說明,這家中的方位,如何讓身體健康亮紅燈?
餐會進行時,玳瑚師父注意到一位出席者將所有的碗盤都往自己哪兒堆。
師父便說,看妳們怎樣排碗盤,就知道妳們現在被什麼困住。前方還有位,爲何不要擺出來,給自己多一點空間?做人,不要把自己逼得無路可退。
不要把自己鎖在一個角落頭,沒有人會可憐妳你的。
有位出席者先前爲自己的禮儀不足,而發了道歉的簡訊。師父提點她,禮貌的重要。道歉,應該是親自撥電向師父說,而不是一則短訊就了事,況且眾人皆知,玳瑚師父不回覆短訊。網路上的溝通,是由弟子代師處理。
師父解釋,這顯示她個人的我執很重,及誠心不足,因此在日常生活中,必有讓家人覺得不舒服的時候,祇是沒有人願意告訴她罷了。
師父通過她們的八字,也應證她們都曾有婦女健康的問題。師父進而提醒她們要如何保養自己的婦女健康,以免血光之災。
接著,玳瑚師父也帶著出席者們一同到樟宜機場的最新航廈。他說,這新的地方,有新的旺氣。師父帶著眾人遊走時,也一一指出機場內的風水密碼,讓眾人獲益匪淺。
師父提醒大家,風水是入世的,能夠補助修行一點點,比方說,一個修行人想要有個好地方打坐,需用風水來幫他,讓他的禪定功力能突飛猛進。但風水畢竟不是究竟。
活著,就一定會有不開心的時候,所以人要常看佛菩薩,學習祂們的寬心和自在。如果看自己多了,會變自戀。看老公,越看越生氣,便「憤怒鳥」。(眾笑)還是看佛菩薩好,要不然就到臉書,看玳瑚師父的「玉照」尋個開心,也不錯!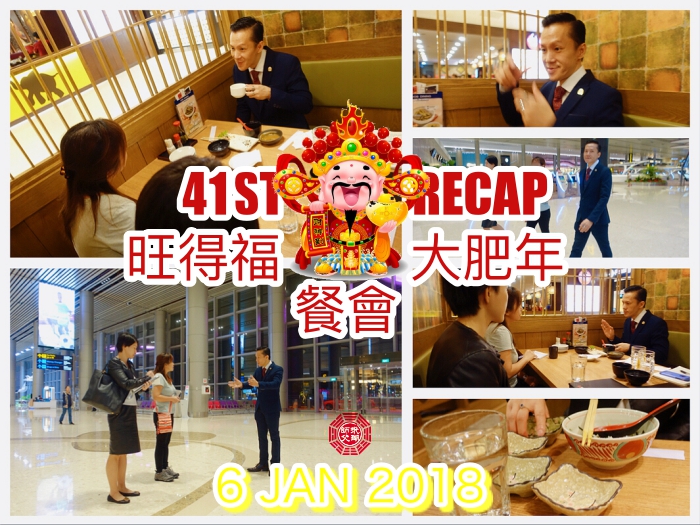 Master Dai Hu held the 1st Learning Session of 2018 on 6th January 2018, imparting knowledge on how to preserve and build up our energy during the Chinese New Year period, in order to enjoy a successful year ahead.
As the session commenced, after everyone had ordered their dinner, Master Dai Hu asked the participants if they had noticed any special facial feature of the waiter taking their orders.
Every participant gave their answers, all of which were incorrect.
Master Dai Hu told them the correct observation, and recommended the participants to best avoid waiters with such facial feature, so as not to feel frustrated. Everyone laughed and nodded their heads.
Following that, Master asked everybody to give themselves some appaluse, citing that that day was a hugely auspicious day in 2018 for them.
Spring is the time of renewal for the Earth. Summer is the time where all flowers bloom. In the Autumn, people becomes moody easily, and in Winter, we becomes lazy to work.
Someone asked: "Doesn't that make us similar to animals?"
Master laugh: "When Man does not eliminate his desires, how is he different from animals?"
Learning Session Highlights:
1. The start of every year is the time when we can "take in tonic" for our personal luck.
2. What is the significance of greeting Master Dai Hu with your palms together?
3. "It is rare that you get to meet me. Why are you pulling such a long face?" Master Dai Hu asked one lady participant.
4. Filial piety does not only mean providing monthly allowances to your parents, but to put on a genuine smile every time you see them.
5. Avoid doing these 3 things during the Chinese New Year.
6. There are also four seasons in your body. How can you tell, and what are their effects on your own fortunes?
7. Which are the mandatory Chinese New Year dishes?
8. Which are the 7 Chinese New Year dishes, that will boost the fortunes of your family members?
9. Is it auspicious (or otherwise) to display a Eight Treasure Box at home during Chinese New Year?
10. Which beverages are mandatory during the Chinese New Year period?
11. How do you welcome the Gods of Wealth, Happiness, Fortune, and Nobility, into your home, and make Them stay for a while longer?
12. Why is it inauspicious to eat sitting at low levels?
13. Avoid these foods on Chinese New Year's Eve, if you wish for success and fame.
14. What is the best shape for the dining table?
15. The position of the dining table in this house is the CAUSE of the frequent quarrels and misfortunes.
16. Master Dai Hu illustrated with an example, how a certain position in a house can adversely affect the health of its occupants.
In the midst of the session, Master Dai Hu noticed that one participant stacked up all the plates in front of her.
Master spoke, "I can tell what obstacles you are facing now, from the way you stacked and arranged those empty plates in front of you.
T
here are plenty of space in front of you, and you should afford yourself more space. We should not set up ourselves for a dead end road in life."
No one would sympathize with you if you trap yourself in a dead corner. Abundance will not come knocking.
One participant sent an apology SMS to Master to apologise for her lack of manners towards him on a previous occasion. Master reminded her that manners are important. Apology should be conveyed at least with a personal phone call, and not via a text message. Furthermore, most people, including her, were aware that Master Dai Hu did not respond to SMS. All communication via the Internet is handled by his disciple.
Master explained that this behaviour showed that she had a strong attachment to self, and a lack of sincerity. Therefore, in her daily life, she must have made her family members feel uncomfortable, just that no one told her so.
Through an analysis of their Bazi, Master was able to tell that they had female health problems. He further reminded them on how to take care of their female health, in order to avoid any form of bloodshed.
Master Dai Hu later brought everyone to the new Terminal 4 of Changi Airport. He said that the new terminal had very auspicious energies. Master pointed out the various Feng Shui applications at the new terminal as they strolled about, making it a very beneficial trip for all.
Master reminded them that Feng Shui is still confined to this material world, and it can help one on the road of spiritual practice. For example, a spiritual practitioner can make use of Feng Shui to improve his cultivation environment, helping him attain incredible progress in his meditation. However, Feng Shui will not lead one to Enlightenment.
There is bound to be sadness in life, thus we should all look at the Buddhas and Bodhisattvas often, to learn Their magnanimity and ease.
Looking at yourself excessively will turn you into a narcissistic person, while looking at your spouse will turn you into an "Angry Bird" (laughter from all). So, it is better to look at the Buddhas and the Bodhisattvas. Another alternative is to visit the Facebook page of Master Dai Hu, and be happy looking at his photos, while learning wisdom at the same time!

Leave a Comment