24th Learning Session Recap - Bring On The Prosperity This Qing Ming!

第24場回顧 – 清明時節也當旺

在2017年3月24日,玳瑚師父舉辦了第24場活動《清明時節也當旺》,教導出席者們如何讓先輩和後代在清明節能夠各有所得,吉祥而圓滿。

這個世界本來就沒有煩惱。人就是因爲有很多糾結,所以身體才會有血凝固,導致心臟病、中風及更多的疾病。

太陽會不會祇爲妳你而照?答案是不會的,因爲太陽沒有分別心。無論妳你是什麼顏色皮膚的人,不分身份的卑微或尊貴,陽光都會一樣照向妳你。

我們來這裡是爲了要修回去,將來就不用依賴後代爲我們積福。

師父問大家:妳你們是什麼國籍?新加坡人嗎?那妳你爲新加坡做過什麼?

師父接著說:我們每一個人都要懂得貢獻給自己的國家,要會報國恩。

貢獻就是能夠不計較回報,不計較體力,要維護法律。雖然師父活動是免費,但師父不隨隨便便給任何一個人來。有貢獻的人,師父才會允許她他出席他的活動。

一、大家知道愛因斯坦是誰嗎?他最著名的發現是什麼?

二、爲什麼愛因斯坦到了最後,不研究科學,而研究佛法?

三、我們在人間,人是陽性磁場,宇宙以外沒陰陽,所以我們都不能忽略陰性的存在。

四、人有三魂七魄。祖先的三魂,一魂在祖先牌位,一魂在陰間/地獄受刑,一魂是跟著我們後代。

五、無論我們是什麼信仰,我們都不能夠不拜我們的祖先。

六、出席者問:我們的祖先過世那麽多年,不是應該投胎了嗎?

七、祖先從來沒有離開我們。她他們生前所做的,會影響我們後代所做的。

八、超度供養我們的祖先,含有六度萬行的道理在其中。

十、大家都是有父母的,人就是忘記看裡面,所以才會起分別心。

          (眾人以爲只是盡孝道,玳瑚師父的答案卻令大家出乎預料,恍然大悟!)

十四、陰陽兩界本來就有界線,人有人的境界,鬼有鬼的境界,我們不要越過那個界線,就不會有事。

不要只是出錢請寺廟的出家眾,幫妳你祖先唸經拜懺,以爲這樣就足夠了。我們身爲她他們的子孫,因爲基因關係,是最直接能讓她他們產生歡喜心的人,也是她他們最希望看到爲她他們貢獻的人。

祖先不開心,但不能顯現給妳你看,就會在妳你生活中發生一些小插曲。

餐會結束前,出席者也請了師父爲她購買的師父文集《向善向上》題筆簽名。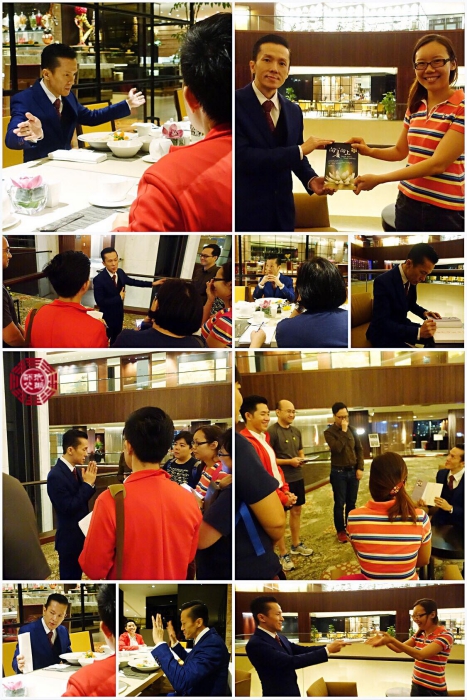 Master Dai Hu held his 24th Learning Session on 24 March 2017 with the theme: Bring On the Prosperity This Qing Ming! The session showed the participants how to benefit both their ancestors and themselves, the descendants, during the Tomb Sweeping Festival, making it an auspicious occasion.
Master Dai Hu reminded everyone that there should be mutual respect between people.
In its very beginning, the world is free of worries. It is because humans start having too many misgivings and attachments, causing their bodies to be afflicted with diseases like heart attack, stroke and many others.
Does The Sun only shine for you? No. The Sun does not discriminate and will shine for you, regardless of your skin color or social status.
The reason we are here on Earth is to cultivate spiritually to return to our origins. So that we would not have to rely on our descendants to cultivate merits for us in the future.
Master Dai Hu asked everyone for their nationality. And then his question, "What have you done for your country?"
No one present could offer any answer.
Master continued saying that everyone must contribute to the country as a mean of repaying her kindness.
What is real contribution?
It is to be able to give without fussing over the returns, or the physical effort required, and to uphold the laws. Even though these sessions of Master Dai Hu are free, he only admits people who have contributed to people around them and the nation.
Highlights from the session:
1. Does everyone know Albert Einstein and what his most famous discovery is?
2. Despite his stellar achievements, why did Albert Einstein gave up his scientific pursuits and chose to study Buddhism in the end?
3. In the human realm, Man is of the Yang energy element. There may be no differentiation in Yin and Yang beyond the universe, but in this human realm, we definitely should not neglect the presence of Yin energy.
4. A person has 3 spiritual souls and 7 physical souls. For the 3 spiritual souls of our ancestors, one resides at the ancestral tablet, one suffers in the netherworld/hell and the last one stays with his descendants.
5. Regardless of our faith or religion, we cannot refuse to pay respect to our ancestors.
6. One participant asked: Our ancestors had been dead for so many years, shouldn't they be reincarnated already?
Master Dai Hu replied: Do you think it is so easy to get a rebirth?
7. Our ancestors have never left us. The deeds they have done when they were alive will have a karmic effect on their descendants.
8. Delivering and making offerings to our ancestors encompasses the principles of the Six Paramitas. How is that so?
9. Please do not criticise the Sages like Confucius and Lao Tzu, etc.
10. Every one of us has parents. People often forget this fact and misjudgment arises.
11. The Tomb Sweeping Day occurs in Spring, why do we need to sweep the graves of our ancestors?
All participants thought it is an act of filial piety, but was awe struck by the answer from Master Dai Hu!
12. The grave is the home for the dead.
13. One participant asked, "Why don't we sweep the graves of our ancestors everyday?"
Master Dai Hu replied, "Are you able to do that everyday? Be realistic and quit your dream talking!"
14. There exists a boundary between the living and the dead. There are different realms for the humans and the spirits. As long as we don't cross this boundary, we will be fine.
15. If the grave of our ancestors is overgrown with weeds, what drastic effect will it have on the descendants?
16. Feng Shui is a body of knowledge on our living environment, as well as directional placement.
17. What would happen to our ancestors when we flout the precepts?
18. Is it beneficial to us if our ancestors are very close to us?
Do not think that it is sufficient to pay the monks from the temples to do repentance for your ancestors.
As their children, we are connected to our ancestors genetically. We are the ones who can, and they hope for to, bring joy to them directly. Therefore, we would please them most when we contribute to their well being.
Also, we ought to recite the mantras, sutras and Buddha's holy name more often, to dedicate the merits to our ancestors.
Our ancestors will be most overjoyed when they see us contributing both money and bodily effort. If our ancestors are displeased, being unable to manifest themselves to you, they will take to causing little mishaps in your life, to alert you.
Let us all not forget this: Only when the ancestors are well, will the descendants thrive.
Towards the end of the session, a participant also sought the autograph of Master Dai Hu for her purchase of his book Towards Kindness, Towards Betterment.

Leave a Comment