Wealth Enhancement With Master Dai Hu

玳瑚師父賜財於我
文 / 李承修  Written by: Lee Cheng Xiu
我第一次見到玳瑚師父是在2017年7月23日的《開運食材大採購》活動。
再見師父是在7月24日,參加第31場餐會《電腦財富餐會》之後,我回家就馬上照著師父的忠告而做。
我最近開了一間電子商務店,到7月24日那天爲止,甚至一個銷售都沒有。我聽了師父的建議而改善,兩個小時後就賣出了我的第一件物品。
過了不久,我又在另一場餐會,7月30日當天,送了一束康乃馨給師父。師父加持後,回送給我,叮嚀我要以這些花沖涼。用師父加持過的康乃馨洗澡後,那一晚又賣了兩件東西。
這一星期過後,我彷彿每天大概會賣出一件貨品。
我參加第三十五場餐會過後,跟了師父到機場。到了機場,師父建議我在某間店前拍一張照。那晚師父預測到我的銷量會增加。隔天起床之後,查看果然賣出了三樣東西,師父的預言在12小時內應驗,又創了我的銷售記錄。
還有一陣子,不知爲何有兩三天什麼都賣不出。在第36場餐會,《成功的衣裝餐會》,我收到師父加持過的花。我再次用花洗澡,隔天又有貨品出售了。
到目前,我的銷售量日日向上。我相信一切都應該感激師父,這當中有太多的巧合了。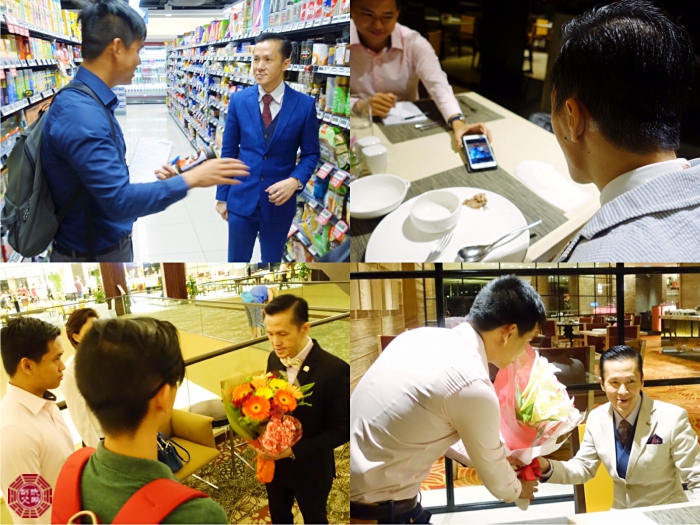 I first met Master Dai Hu on 23rd July 2017, at the Fortune Grocery Shopping Spree. After attending the 31st learning session (Wealth From Your PC & Laptop), I received some suggestions about changes that could help me. I implemented the changes the moment I got home.
I recently started an ecommerce store that had not made any sales prior to that meal session. I made my first sale that very night, 2 hours after changing everything I was told to change.
Not long after, I attended a separate learning session where I received a bouquet of flowers that had been blessed by Master. After using the flowers as suggested by Master, I received 2 sales within a two-hour window, something which had never happened before as well.
After this incident, I had approximately a sale every day.
After a while, I had a bit of a lull in sales, failing to make any sales for three days for some reason. I received another bouquet blessed by Master after attending the 35th meal session: Prosperity During the Ghost Festival. Using the bouquet again, I got a sale before long.
I followed Master to the airport after the 36th meal session: The Fashion of Success. At the airport, he suggested that I take a picture in front of a certain shop, as it would be beneficial to me. He predicted that night that my sales would increase very soon. I woke up the next day to 3 sales, a record breaking day less than twelve hours after Master made his prediction.
My stats to date are looking better every week, and I believe I owe all this to Master. There are too many coincidences for this to have happened naturally.
Leave a Comment