The Revolution Against Destiny 2

向命運革命 2

   

文 / 李季謙   Written by Lee Ji Qian

 
弟子規言:同是人,類不齊。我認為這個世界上有三種人,先知先覺、後知後覺,和不知不覺。
 
恰巧孫中山先生也如此說。他依著當年的革命形勢和需要,把人群歸類爲三大類的革命形勢和需要。
 
他主張,革命應該以先知先覺喚醒後知後覺,從而帶動不知不覺。
 
一流的堪輿師父,肯定是先知先覺,再配合佛法的實修,無疑就會是一等一的改命高手。
 
所以有人說:
 
  先知先覺成就一生;
  後知後覺茫然一生;
  不知不覺斷送一生。
 
我,很遺憾,因為自己的固執和短見,作繭自縛,始終沒追得上玳瑚師父的英明和果斷。
 
我追隨他學習12年了,卻連滾帶跑地跳進了「血光之災」的厄運⋯⋯真是丟臉丟到家~~
 
但是,也有人說:
 
先知先覺創造機會,
  後知後覺抓住機會,
  不知不覺失去機會。
 
我既然錯失了創造機會,總得趕著抓住機會的尾巴吧!我才不要做那個斷送一生的傻瓜呀!
 
大概2014-15年左右,我就發現我下唇角有粒痣,漸漸地「萌芽」。我立刻憶起師父的教誨:
 
舉凡女性唇上長痣,一定是婦女健康亮起紅燈。
應當立馬擇日點痣,斬草除根。
 
我⋯⋯卻沒有。那時我生意失敗,而先生投資被騙,負債多年,點痣之事,就挪後了。
 
後來,那粒痣在吸收了日月精華之下,還落地生根,茁壯成長,越來越黑,越來越大!我的月事,從發育以來,都很準時報到,也沒有嚴重經痛。我經濟狀況穩定後,還是不把這痣當一回事。
 
我暗地裡想,人好好的,可能可以度過這一劫吧!
 
直到在2018年1月29日,星期一下午,新加坡竹腳婦幼醫院的醫生告訴我,子宮內膜有四粒肌瘤和息肉,女性荷爾蒙失調,我才恍然醒過來!
 
向玳瑚師父學風水命理的我,怎麼會無視這些命運的軌跡?!
 
我擇了吉日良辰,星期六,硬是要求診所把我擠進去,左掰右掰的,我就是要把兩粒痣給雷射除掉!
 
一粒痣,才花新幣100元。過程簡單利落。男醫生問我,是不是因為迷信而要點痣?
 
我笑而不答。醫生,你試試月事來潮70天,放衛生棉一包又一包,還拖著四粒瘤和息肉滿街跑,看你還會不會認為我迷信!
 
感恩玳瑚師父的無私教導,讓我們這些女性們有機會病從淺中醫,甚至大事化小,小事化無。
 
姐姐妹妹們,請勇敢地走出自己命運的束縛,把這能救人的面相知識大力地分享出去!我們都別指望身邊的人一定會幫助我們,要靠自己。自己的病業,自己消最快!
 
我看到很多人來到師父面前,懷疑這個,猶豫那個,伊伊啊啊的,結果不知不覺就斷送了一生的前途。你又不是專家,什麼都不試,你又怎麼知道會不行呢?
 
講了這麼多你還是不信的話,那我只能奉勸你把應該買的保險都務必買好吧!
 
之前,師父也曾告訴我,不必去動手術。可我因爲擔心,還是決定聽取醫生的建議。
 
改命需要天時、地利、人和,方能圓滿。後來,我在2018年3月22日,子宮內膜的四粒肌瘤和息肉切除成功嗎?是否有癌症呢?
 
不知情的讀者們,請觀看昨天我在醫院的臉書直播,驚嘆玳瑚師父,爲我人生神奇測準的三大事件:
 


 
如果您有幸得到師父的幫助,請珍惜。師父為人嚴厲坦白,但這位修行人心中絕對有滿滿的愛。不要因爲他直接指出您的缺點,就將他視為惡人(拜託要改命,就該正視自己,而不是斤斤計較啦~~)。
 
誰不知最大的敵人是自己,但降伏自己需要明師的指導啊!請玳瑚師父爲您指引一條明路,我擔保您,絕對沒有錯。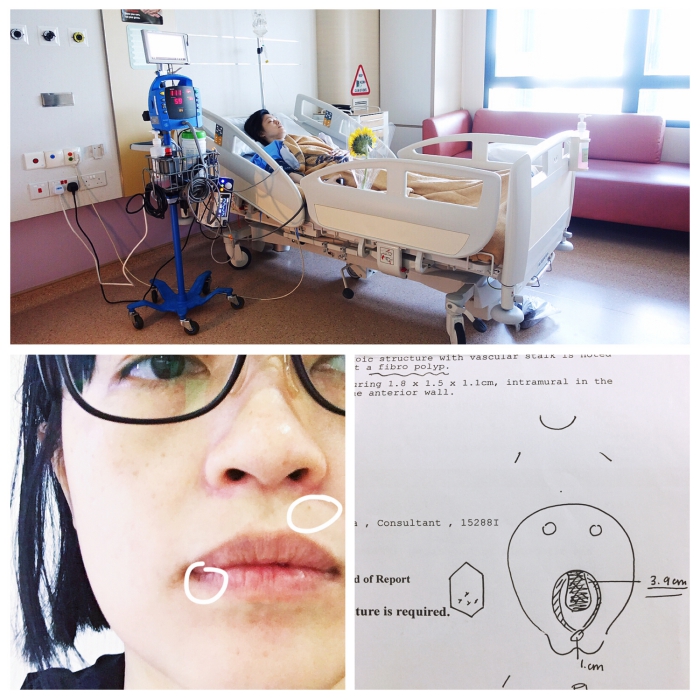 There is a phrase in the book "Di Zi Gui" (Rules for the Students) that goes: We are all human, but we are not the same.
 
I think there are 3 types of people in this world: the one with foresight, the one who realises later, and the one who is totally unaware.
 
Coincidently, the revolutionary Sun Yat Sen had the same idea. In accordance to the situation and needs of the Revolution at that time, he categorised his countrymen into 3 groups.
 
He proposed that a revolution should be led by those with foresight so as to awake those who realised the cause, and collectively move the unconscious herd.
 
A top notch Feng Shui Master is definitely one with foresight, and coupled with spiritual practice in the Dharma, is undoubtedly an expert in transforming destinies.
 
Hence, there is this saying:
 
The one with foresight shall have a victorious life.
The one who realises it on hindsight will not have clarity in life.
The totally unaware one shall have a ruined existence.
 
I am regretful that, due to my own stubbornness and short-sightedness, I have not reached the level of accomplishment of Master Dai Hu.
 
I have been learning from him for the past 12 years but yet I still jumped right into this "bloody" misfortune… such a shame…
 
However, someone also said:
 
The one with foresight creates opportunities,
The one with hindsight afterwards grabs them,
The one who does not know what is happening loses it all.
 
Since I missed the chance to create opportunity, I better grab the opportunity by its tailcoat! I do not want to be the fool who wasted her entire life!
 
It was around the period between 2014 and 2015 when I discovered a small mole on the right corner of my lower lip. I immediately recalled what Master had taught me:
 
A mole on the lips of a women signifies a potential issue with her female health.
Like plucking up the weeds by the roots, the mole must be removed on an auspicious day.
 
I did not. It came at a time when my business was floundering and my husband's financial situation was not good due to an investment scam. Thus I delayed doing anything about the mole.
 
Later on, the mole flourished with the essence from the sun and the moon. Its roots deepened, became stronger by the day, and darkened in colour and grew in size! My menstruation had always been very punctual, since puberty. It had never given me severe cramps either. When my financial situation stabilised, I disregarded the severity of this tell-tale sign.
 
I was secretly thinking to myself that I was fine at that time, and may be able to escape this misfortune!
 
Until 29 Jan 2018, a Monday afternoon, when the doctor at KK Women and Children Hospital told me that there were 4 growths (fibroids and polyps) in my womb likely caused by hormonal imbalance, it shook me awake instantly!
 
I have learned Chinese Metaphysics from Master Dai Hu for many years. How could I have neglected such obvious tell-tale signs of Destiny?!
 
I selected an auspicious day and time, it was a Saturday. I pleaded for the clinic to squeeze me into an appointment slot. I was determined to remove the 2 moles with laser!
 
It cost me only S$100 per mole removal and the procedure was simple and swift. The male doctor asked me if my decision to remove the mole was due to superstition.
 
I just smiled at him. Doctor, you should try having period for consecutive 65 days, changing sanitary pads one bag after another, and running around with 4 fibroids and polyps in your womb. After that you tell me if I am being superstitious!
 
I am grateful to Master Dai Hu for teaching me selflessly, allowing women like us a chance to turn our own medical conditions around.
 
My dear sisters, please be brave and break free from the shackles of destiny. Share this face- reading knowledge with everyone you know. We cannot always rely on the person beside us to take care of us. Take responsibility and turn around your own negative karma of illness!
 
I see many people came to Master Dai Hu with plenty of doubts, suspicion and hesitation, and ended up blocking their path to a good future. You are not the expert, if you are not willing to give it a try, how would you know it would not work?
 
If you are still not convinced, my advice to you would be to get yourself properly insured!
 
Beforehand, Master Dai Hu had told me that I would not need to go for the operation, but out of fear, I still decided to take the doctor's advice to proceed with the surgery.
 
To successfully change our destinies, we need the luck combination of the Heaven's timing, Earth's place and Man.
 
Is my operation to remove the 4 fibroids and polyps in my womb a success? Are these growths cancerous?
 
For those not in the know, please watch the Facebook Live I did at the hospital yesterday, sharing my amazement that Master Dai Hu accurately foretold 3 major events in my life:
 

 
If you have the good fortune to have Master's advice, please treasure it.
 
Master Dai Hu is stern and outspoken, but his heart is definitely filled with love for sentient beings. Do not treat him as a bad guy just because he pointed out your flaws directly.
 
For goodness' sake, if you really want to transform your destiny, you ought to face up to your flaws instead of being petty and calculative.
 
We all know that we are are own biggest enemy, however you need guidance from an accomplished master to achieve self-mastery! Invite Master Dai Hu to be your guiding lamp, and I guarantee that it will be your best decision.
 
Leave a Comment