THE TEA SESSION I FIRST MET MASTER DAI HU

初見玳瑚師父
文/何月玲 女士 Written by: Mdm Carine Ho
玳瑚師父,我非常感激您,真的無法用語言來表達我心中的感恩。謝謝您慈悲允許我參與您的茶會。
我還記得第一次在2016年12月11日與玳瑚師父見面。那是一個一健康為主的茶會,而當天我的鼻竇炎又犯了。我自幼時就被此病折磨,直到我遇見玳瑚恩師那天。
無奈那天,我必須戴著口罩去參加師父的茶會。師父看了我的八字某一部份後,便指點我哪一些熱飲最適合我飲用。我也聽取了師父的話,不要喝茶。
近卅年的鼻竇炎,玳瑚師父居然沒用藥物也能醫好!
日子一天一天過去,在我不知不覺中,我的鼻竇炎有了巨大的改善。我和師父的緣份並沒有在第一次的見面就終止。我第三次參加他的活動,便是今年2017年大年初三的新春餐會。師父是位非常仔細,及時時關懷他人的師父。他問候我的狀況,那我也很高興的回覆他,說我的鼻竇炎已經大大改善了,多虧他的指點。這真的太神奇了!我很清楚的記得,我和師父第一次在茶會見面時,師父已說,每見師父一次,我的病狀就會改善,直到痊癒。現在就告訴大家真相:果真如此!我這期間根本沒有服藥,整個人現在也感覺好很多了。
我覺得自己很幸運,很幸福。我珍惜每一次能夠參與師父茶會和餐會的機會。和師父相聚的時間,總是充滿勵志的正能量,也會獲得師父賜予我們的金玉良言。有重要的一點要注意:師父常常叮嚀我們一定不能夠殺生。我們要時時自審,懺悔過錯,改過遷善,多多行善積德。
我真心想與大家分享我這很棒的經驗。期盼你也都有緣能見到玳瑚師父。? 師父,感谢您的教导,我會多加努力學習和閱讀您的文章。❤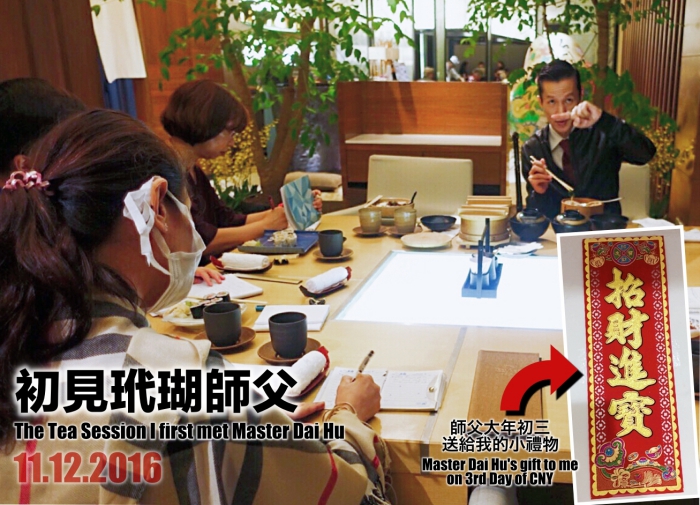 I felt so grateful and could not express more to thank you, Master Dai Hu, for the kindness you shown in giving me these golden opportunities to attend your tea sessions.
I could recalled my first meet up session with Master Dai Hu was on 11 December 2016. It was a health-themed tea session. That day I was down with my sinus once again and this issue has been troubling me since a very young age. That is, till I met Shifu whom I remain grateful to.
Sadly, I had to wear a mask to attend the tea session with Shifu on that day. Shifu did go through some areas of my Bazi and he gave me a valuable advice on the type of hot drink, which suits me best. I heeded his advice not to drink tea.
30 years of sinus, yet Master Dai Hu is able to heal it without using medication!
As the days passed, without realizing it, my sinus problem has improved tremendously. My affinity with Shifu did not end at my 1st tea session. The third session I attended was the CNY Prosperity Dinner Session held by Shifu on 30 January 2017. Shifu is a very detailed and caring Master. He asked about my sinus problem and I was happy to tell him that my health recovered so much, after following his advice. It was amazing! I vividly recalled what Shifu told me during my 1st tea session with him, that every time I see Shifu, my sinusitis condition will gradually improve and recover. Here's the truth unveiled: yes indeed! I did not take any medication and I felt so much better now.
I felt so blessed and fortunate. I do treasure each tea/dinner session. The quality time spent with Shifu is always positive and encouraging, with good advice given. One important point to note: Shifu will always cautiously remind us: No Killing. Admit your wrong and mend it right. Repent by doing lots of good deeds to gain more merits.
I would truly want to share these great experiences with everyone. May you have the affinity with Shifu one day. ? Shifu, thank you so much for your teaching. I will put in more effort to learn and read your articles. ❤
Leave a Comment