Between Man and His Abode

人與房屋之間

一個人臉上,氣色的好與不好,取決於她他住的地方,是否有地靈。即地氣也。若一個人住在一塊「平平無奇」的土地上,不要說她他的長相,她他的一生也有如,她他所住在的這塊土地,一樣的「平平無奇」。這乃是地靈人傑的關係。要知道,長白山與高麗國(韓國古時候所稱),的人蔘爲何是極品,因當地的水木之氣佳厚,所以才得以出產,這上等的人蔘啊!

吾,玳瑚師父,實實在在的告訴大家,人如其屋,屋如其人這句話,半點也不假。吾,玳瑚師父,希望所有的堪輿師,所有此道的愛好者,一定要深明此話,這樣才能夠把一間屋宅給堪好。就算妳你是位不諳此道者,也應該認知此話,趨吉避凶、反敗爲勝、利己利她他,絕非難事。當我們住進一間宅地,興旺與否,很多時候,不出半年就可自然的覺察到。因爲,我們與屋宅,是互吸彼此的氣的。兩者的陰陽電,若無太大的排斥,住的人就沒多問題。兩者的陰陽電,若有所排斥,住的人就會出現諸多的違和。這是非常肯定的。

「風水」這兩個字是什麼?它真有這麼神奇嗎?它是不是一種迷信而已?「風水」這兩個字,其實已一言道破了,生存根本就離不開「風」和「水」。它即是我們人類,甚至一切生物,生存所需的空氣與水。窮人住的地氣佳厚的土地上,轉貧爲富。不孕的婦人,住於聚氣土地上,立馬有孕。歹人住於來龍端正的土地上,改邪歸正,等等等。妳你說神不神奇?妳你現在用母指與食指,捏住自己的鼻子,另外一手則摀住自己的口,若妳你還能活,妳你說「風水」是迷信,這時人們就不會再有任何異議。(一笑)

想要擁有一間吉屋、旺屋,以下這些要素,是不能不注意,及細心分辨的:

一,房屋建在哪一方。
二,房屋的路名、街號、巷號。
三,大牌、門牌號碼及樓層。
四,人屋配卦。
五,擇日時動工裝潢新居。
六,擇日時入伙。

以上的六件事,是賜於不信也不想看風水的人,欲想擁有吉屋、旺屋的忠告。倘若連這六件事,妳你都懶得去進行的話,吉屋、旺屋很難會實現在妳你的生命裡。至於信風水及想看風水的人,以上的六件事,祇是基本的要素而已。人與房屋之間,還含蓋著更深一層的「關係」,緣成自會幫妳你處理。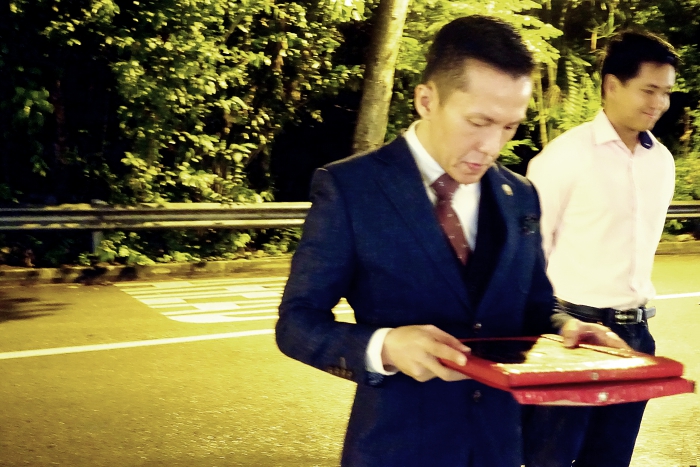 The aura on the face of a person is determined by the presence of good earth energy in the place he stay. If the house sits on a piece of land with insignificant earth energy, his look and even life's fortune would reflect that of the house, listless and lifeless. Top talents are borne out of lands with superior earth energies. One needs to know, the reason why the ginseng in Chang Bai Shan and Goryeo (the ancient name of Korea) are premium grade, is because the lands in which they are cultivated possess an abundance of excellent water and wood energies, hence producing first-class ginseng!
Master Dai Hu shall tell everyone honestly that the phrase "A man is like his abode, and likewise his abode is like its occupant" is the whole truth. I hope for all Feng Shui practitioners or hobbyists to make it a must to have a deep comprehension of this phrase, so that they can perform a thorough and quality Feng Shui audit.
Even if you are not a believer of Feng Shui, you should also understand this phrase. To welcome good fortune and ward off disaster, turn a likely defeat into a victory, and bring benefits to others and yourself, all these are not difficult tasks.
When we move into a new abode, many a time, within 6 months, we will naturally be aware if the new house is prosperous or not. Because there is a mutual suction of each other's Yin and Yang energies, between us and our own house.
If there is no major repulsion, there shall be minimal problem for the occupant. If there is repulsion in the Yin and Yang energies, the occupants will experience much misfortune. I am absolutely sure of this.
What do these two Chinese characters 風水 (Feng Shui) mean? Is it really that mystical? Isn't it just a form of superstition? Well, the Chinese characters of Feng Shui, (meaning Wind and Water respectively) already tell you half of the matter. Our survival is greatly dependent on the Wind and the Water. These elements represent the air and water, much needed by humans and all living creatures to survive.
A poor man will turn wealthy if he lives on a land of abundant fine earth energy.
A female who has difficulty getting pregnant will be able conceive immediately, if she lives on a similar land.
A person with evil traits can turn over a new leaf, when he stays on a piece of land with a proper connecting pulse of earth energy, etc.
Don't you think it is amazing? Now, you can use your thumb and index finger to pinch your nose, the other to cover your own mouth. If you are not dead from air deprivation, people will now no longer have any objection when you say Feng Shui is a superstition. (laughs)
Please pay careful attention to the below pointers, if you wish to have an auspicious abode and prosperous home:
1. The facing direction of the house.
2. Name of the road, street number and avenue number.
3. Block number, unit number and floor number.
4. Whether the directions of the home matches the owner's needs.
5. Selection of an auspicious date to begin renovation.
6. Selection of an auspicious date to move in.
The 6 pointers listed above are specially meant as advice for people who do not believe in Feng Shui, and refuse to do a Feng Shui audit, yet desire for an auspicious and prosperous house to live in. If you are too lazy to take care of these 6 issues, it is very difficult for an auspicious and prosperous home to actualise in your life.
For the other group of people who believe in Feng Shui and would like to do a Feng Shui audit, these 6 pointers are the basic requirements. The relationship between a man and his abode has a deeper connection that you think. I shall help you handle this once the affinity is ripe.

Leave a Comment